Sponsored
Sketch comedy troupes from all over N. America descend on The Siren Theater for 3 glorious nights.
As promised, Portland landlords are attempting to dismantle brand new renter protections Portland City Council adopted unanimously last week at the urging of City Commissioner Chloe Eudaly and Mayor Ted Wheeler. Now, a court battle housing activists have been itching for for months is fast approaching.
In a complaint filed earlier today [PDF], two local landlords, Phillip Owen and Michael Feves, are asking a judge to declare the city's new law unlawful and put a stop to it. The landlords say the protections violate Oregon law, the state and US constitutions, and the city's own rules.
A quick reminder: The law council put into effect last week forces landlords to pay between $2,900 and $4,500 in relocation costs when they hike rents by 10 percent or evict tenants without cause. There are exemptions for week-to-week rentals, landlords that manage only one unit, and landlords who live with their tenants.
The new law has been pushed hard by renters' rights advocates, but is detested by landlords, who argued repeatedly last week it would spiral into a series of hellish unintended consequences—like creepy tenants who harass children being allowed to stay in their place, and landlords allowing buildings to languish.
The lawsuit takes a different tack. As expected, landlords' attorney John DiLorenzo argues in the suit that penalizing landlords for a rent hike amounts to rent control, which is preempted by state law. And he says landlords like Owen and Feves are less able to protect their "responsible" tenants under the law, since they'll now want to avoid no-cause evictions.
"By requiring the payment of significant penalty amounts for relocation assistance, the Ordinance conflicts with paramount state law as follows: (a) by effectively controlling the rent that may be charged for a dwelling... and (b) by substantially burdening and preventing landlords' ability to use no-cause terminations to promote tenant welfare and safety," the suit reads.
It says the two landlords suing the city want to continue to "adjust rent prices to mark them to the market," use no-cause evictions "to remove problem tenants," and choose not to renew expiring leases (which is treated the same as a no-cause eviction under the new law).
DiLorenzo in the past has acknowledged problematic occurrences under he existing system—including Northeast Portland's Normandy Apartments, where tenants were hit recently with 100 percent rent increase—but says the city should have tailored its law to those extreme circumstances.
Some additional claims:
•that the new law violates the state and federal constitutions, because it applies to existing leases, and so "unconstitutionally impairs contracts."
•that the law is "unduly oppressive" to landlords, and violates due process protections.
•that the city flouted its own procedures when, during last week's six-hour hearing, city commissioners came up with amendments to the proposal, but didn't specifically hammer out the language of those changes. DiLorenzo and his clients say that by allowing the City Attorney's Office to write the actual language of those changes, the city violated both its city code and its charter.
There's little surprising in the lawsuit, which landlords had assured the city they would file if council passed the new protections. A central question now will be whether the plaintiffs can win an order stopping the city from enforcing the law while the court case plays out.
DiLorenzo tells the Mercury he'll be filing a motion at some point soon to try and halt enforcement. That could happen a couple ways—either by the landlords filing for a temporary restraining order, which could halt the law for 10 days until a hearing on whether an injunction is warranted.
"The other process would just be to get an agreement with the city to maybe not enforce it until we had a hearing," DiLorenzo says. He notes, though, that it's unclear if there will be an appetite to go that route. "I don't think Commissioner Eudaly would be very happy about that," DiLorenzo says.
Sponsored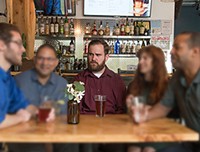 Adults aged 18-35 with good hearing will be paid for their time. Located at the Portland VA Medical Center