Sponsored
Sketch comedy troupes from all over N. America descend on The Siren Theater for 3 glorious nights.
With shows premiering nearly every week on network, cable and streaming TV, it sometimes feels impossible to keep up, let alone make an informed decision about the ones you should be devoting your valuable attention to (and those you might want to avoid altogether). We're here to help.
Saturday: Saturday Night Live: SNL has been going for the jugular in its political skits this season (if you saw Melissa McCarthy as Sean Spicer, you know just what I'm talking about). Saturday's is Alex Baldwin making his 17th appearance as host (expanding on his surprise spots). Though more Trump stuff is likely, none of it seems so funny anymore; the UK's favorite pop-slinging ginger, Ed Sheeran, is the musical guest. (11:30 p.m., NBC)
Sunday: The 59th annual Grammy Awards airs on Sunday (CBS at 5 pm—8 pm EST) with performances from A Tribe Called Quest and Anderson Paak, Chance the Rapper (I'm impressed that someone at the Grammy Foundation knows who he is but he got an actual nomination for Best New Artist, and for a streaming-only album). There's also a duet featuring Metallica and Lady Gaga (which couldn't possibly eclipse her epic Super Bowl performance but still sounds rather intriguing compared to the usual vanilla crap we see at these things). [Ed Note: This could be so-bad-it's-good]. There are also tributes to George Michael and Prince in the works, though no details about what these tributes will be or who will perform them have been released. Stay tuned for a Slog recap.
The Walking Dead: Because people are assholes, and few of them seem to care about spoiling shit for the rest of us, I already know that Glenn ate it in the first half of The Walking Dead's seventh season. Or, was he eaten? Not sure of the details, trying to avoid them so at least the method is a surprise, but the second half kicks off Sunday (9 pm, AMC).
Girls: The sixth and final season of Girls, Lena Dunham's original dramedy about four friends navigating life in NYC amid dealing with all manner of amusing trials and tribulations airs at 10 pm. (Read our preview by Lauren Hoffman and Jessica Fu here and here).
Last Week Tonight with Jon Oliver: The Green Card-holding British satirist returns for his fourth season with his smart, pointed "investigative comedy" that touches on current events, the political landscape (11pm). And Trump is sure to be the subject of at least some of his reports. From a recent Rolling Stone interview:
Is Trump strategic, or is he sophisticated enough to know the power of the kind of linguistic hand grenade that he has become? Because even if he isn't, it's a classic magician's misdirection trick, isn't it? Is he sophisticated enough to understand the power to distract people from what you're doing with ridiculous behavior? And the party he nominally belongs to is definitely sophisticated enough to know that. They could get a lot of shit done while people are gasping over the things that Trump has said. You could do hard legislation in the shadows, because if a magician comes onstage and releases a chimpanzee into the room who starts throwing feces at people, it's going to be pretty easy for him to make a couple of moves and end up with a woman sawed in half [laughs]. They could get an incredible amount done while people are distracted by just the volume of nonsense.
Whenever you want it: Currently bingeworthy on Netflix: Santa Clarita Diet.
The new 10-episode Netflix original horror-comedy series proves rather entertaining in 30-minute blocks, if you can get past the first few episodes, in which the purposeful campiness almost feels overwrought. Drew Barrymore and Justified's Timothy Olyphant star as Sheila and Joel, a long-married couple and overly chipper real estate agents who find themselves facing a complete home lifestyle change when she starts craving human flesh. On the flip side, it adds some much-needed spice to their 25-year marriage. It takes a few episodes to catch a rhythm, but then it gets pretty funny, in a pretty absurd and absurdly disgusting way.
Sponsored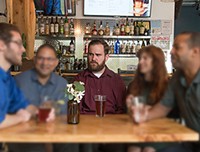 Adults aged 18-35 with good hearing will be paid for their time. Located at the Portland VA Medical Center