Sponsored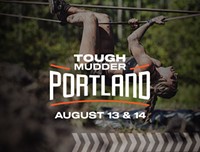 Lock in your summer adventure, Portland. Join us for world famous obstacles over a 5K or 10K distance.
Hundreds of marchers are taking to the streets of downtown Portland this evening, to demand justice in the death of Quanice Hayes, the 17-year-old Portlander killed by a Portland police officer a week ago.
According to the Merc's Doug Brown, after a rally in the South Park Blocks, demonstrators began marching an unspecified route, potentially setting up a conflict with police, who've been watching from a distance.
Protesters are on Naito now. Police not a fan.
— doug brown (@dougbrown8) February 17, 2017
Details of Hayes' death on the morning of February 9 are still sketchy, with the sole account coming from police. They say Hayes was a suspect in the armed robbery of a man living in his car near NE 82nd and Braodway that morning. As cops responded to that report, they say they received another call about a car prowler nearby. After cordoning off the area Officer Andrew Hearst came upon Hayes near 82nd and Hancock, and fired three shots killing him. Police say they found a "replica" gun on the scene.
"It would be extremely difficult for anybody in a moment's notice to know they were not real firearms," Police Chief Mike Marshman said last week, also referencing another Thursday shooting in which officers shot a man with a replica firearm.
Hayes' relatives have described the teen as a caring, kind, and funny individual. Here's what a friend had to say earlier this evening.
A friend of Quanice Hayes speaks at a rally for the 17 year old killed by Portland Police last week pic.twitter.com/Q5mhN1kIgh
— doug brown (@dougbrown8) February 17, 2017
Hearst is on leave while Hayes' death is investigated. It's unclear when the case will go before a grand jury.
The case—coming, as it does, amid high-profile incidents around the country in which young black men have been killed by police— has inspired suspicion among community members saying they don't trust the police to investigate Hayes' death fairly, and accounts that have claimed Hayes was shot more than 10 times in the back. Police have strenuously countered those accounts, and it's unclear where the information came from.
Portland police confronting protesters pic.twitter.com/sripjmBaxn
— doug brown (@dougbrown8) February 17, 2017
As you can see, things are getting a bit tense between cops and protesters as of 7:30 pm or so, and the ACLU, which has asked police to update their crowd control policies, is dialoguing with the PPB on Twitter.
To be clear, @portlandpolice, you do not need a permit to assemble in response to current events. https://t.co/IbTd4sQXYR https://t.co/6Z7HmDG7lF
— ACLU of Oregon (@ACLU_OR) February 17, 2017
@ACLU_OR Assembly yes, blocking traffic in the street requires a permit. Acts of vandalism are not covered by either.
— Portland Police (@PortlandPolice) February 17, 2017
Here's Doug's stuff from the march/rally.
Students speaking at a rally for Quanice Hayes pic.twitter.com/pAl9sAG7Ok
— doug brown (@dougbrown8) February 17, 2017
Marching downtown for Quanice Hayes pic.twitter.com/b8W5NzRquQ
— doug brown (@dougbrown8) February 17, 2017
Maybe 200 people marching downtown for Quanice Hayes pic.twitter.com/FakalwzFnf
— doug brown (@dougbrown8) February 17, 2017
Riot cops, on Morrison Bridge, watching marchers below on Naito. Protesters didn't notice them. pic.twitter.com/1Zbg4AwviV
— doug brown (@dougbrown8) February 17, 2017
Quanice Hayes marchers on Broadway pic.twitter.com/5dPgFbO7n9
— doug brown (@dougbrown8) February 17, 2017
Now in front of Justice Center. They're gonna set up a memorial for Quanice Hayes. pic.twitter.com/pIX1jqIfts
— doug brown (@dougbrown8) February 17, 2017
A friend of Quanice Hayes tears up at the makeshift memorial in front of the Justice Center pic.twitter.com/FhcUaLSEyF
— doug brown (@dougbrown8) February 17, 2017
Someone in crowd broke van window, protesters ran away from SW 3rd & Clay. No apparent injuries.
— Portland Police (@PortlandPolice) February 17, 2017
One person has been arrested at SW Broadway and Montgomery during the protest.
— Portland Police (@PortlandPolice) February 17, 2017
After more marching, Portland police arrested one guy (who had an Anarchist flag). Didn't see what he did. pic.twitter.com/kKPUypD299

— doug brown (@dougbrown8) February 17, 2017