A day after Portland police forcefully arrested 13 people accused of standing in the street during a protest of President Donald Trump, Mayor Ted Wheeler, the police commissioner, released a statement acknowledging yesterday's police response was a "mistake."
Wheeler—who campaigned on a promise to "actively demilitarize the police force"—has overseen a handful of highly-criticized and suppressive police responses in his nearly two months in office, including the January 20 Inauguration Day protest where riot cops set off flash-bang grenades, shot less-lethal rounds, and set off tear gas at nonviolent protesters. Riot cops also showed up for a march and vigil last week for Quanice Hayes, the 17-year-old killed by a PPB earlier this month.
Yesterday saw more riot police downtown, making these arrests of nonviolent protesters:

Portland riot cops just tossed people to the ground. Nonviolent protesters arrested #notmypresidentsday pic.twitter.com/kA8mTJYcqj

— doug brown (@dougbrown8) February 20, 2017
Here is second encounter. Police roughing up people on sidewalk, pepper spraying one in face. #notmypresidentsday pic.twitter.com/N08DFzKca1

— doug brown (@dougbrown8) February 20, 2017
Portland riot cops make more rough arrests around the corner, shot "pepper balls" at people. #Notmypresidentsday pic.twitter.com/hQrhRf11wu

— doug brown (@dougbrown8) February 20, 2017
Pics I took earlier: On sidewalk, Portland police rough up this #notmypresidentsday protester, pepper spray to face while arms pinned back pic.twitter.com/vwjyZ01t0F

— doug brown (@dougbrown8) February 20, 2017
A woman's face was bloodied in the scrum, she was detained and taken away in a police vehicle @DontShootPdx #NOTMYPRESIDENTSDAY pic.twitter.com/ASUpL3cEVx

— Dave Killen (@killendave) February 20, 2017
Here's what he had to say about Monday's protest (actual comments addressing yesterday's protest bolded by the Mercury):
Portland is an amazing city with a very bright future. It also faces daunting challenges. I was elected to address many of the most difficult issues facing our city: homelessness, housing affordability, crumbling transportation infrastructure, police reform, and racial justice.

When President Trump took office, some of these challenges were exacerbated, and new ones – some terrifying – appeared: a proposed ban on Muslims entering our country; active deportation of our immigrant neighbors; approval of the Dakota Access Pipeline; threats to public education, health coverage, and environmental protection. While not all Portlanders agree with me on these issues, many do.

It is in this context that some Portlanders are protesting, joining others around the nation to ensure that their voices are heard. Portland has a strong history of activism and peaceful protest. But the message is being undermined because of ongoing tensions between protesters and police. We cannot afford for this type of conflict to occur when we have so much other work to do in this city that requires us all to work together.

Upon taking office, I made it clear that I support the Constitutional right to assembly and free expression. I also set some common-sense boundaries that I would ask the police to enforce: no violence, no vandalism, no accessing highways or bridges (for the safety of everyone involved), and no blocking of the regional transit system.

Finding and maintaining an appropriate balance between assembly and order requires constant evaluation and recalibration. Democracy can be messy, that's a fact. But as of late, it's been far too messy here in Portland.

Last week we saw video of protesters in masks surrounding commuters in their vehicles brandishing sticks. That isn't good for democracy. Yesterday we saw images of a woman in her sixties injured during an arrest. That isn't good for democracy either.

I met with the Police Chief this morning – after thanking rank-and-file officers for the hard work they do day in and day out – and I shared my concerns with him. I asked the Chief and his command staff to help create a more positive space for expression and emphasize tactics that deescalate tensions.

Chief Marshman knows that I support the men and women in our police force. They do tremendous good in our community. The work that they do is dangerous and often thankless. The work requires long hours, quick thinking, and good judgement.

Inevitably, mistakes will be made. It is my job as Police Commissioner to address them and make changes when necessary. This is one of those times.

In the coming days the Chief and I will meet with concerned parties and members of the community to discuss how we can best reduce tensions moving forward. It is my expectation that policing in Portland will improve. I ran on a platform of police accountability and I intend to see it through.

The culture of protest locally and nationally will be with us for the foreseeable future. Portland can and should be an example of democracy done right. To get there we have some work to do, and we have to work together.
Sponsored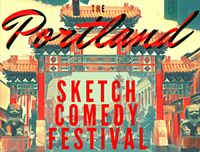 Sketch comedy troupes from all over N. America descend on The Siren Theater for 3 glorious nights.