Sponsored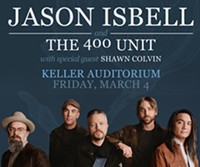 Jason Isbell has established himself as one of the most respected songwriters of his generation. Don't miss Jason Isbell and the 400 Unit, March 4th at Keller Auditorium!
According to the Lake Oswego Review, local businessman Kevin "The Geek" Kerwin (nationally known for posting a sign in his store window telling liberals to "go straight to hell"—he also despises Bruce Springsteen) is desperately trying to drum up interest in a "March 4 Trump" rally in Lake O on March 4. HE REALLY, REALLY WANTS THIS TO HAPPEN, GUYS.
"It's just a friendly walk down the sidewalks," he says. "We're not going to block traffic, smash windows or light cars on fire."
And yet, according to the story, Kerwin doesn't plan on getting a permit. (We'll see if overly aggressive riot cops will automatically show up to this peaceful protest like they do in Portland.) Since Trump won the election, one might wonder why Kerwin feels an Oregon march is necessary, and what they intend to prove by marching.
"We're happy with what Trump's been doing, as conservatives," he says. "We feel like the mainstream press is doing everything they can to assassinate what he's doing."
That's an interesting choice of words. Anyway, according to the March 4 Trump Facebook page, they've already got 51 people promising to attend the march—which, according to my quick math, is somewhat less than the estimated 100,000 that showed up to Portland's Women's March, but hey... they've still got a little over a week to drum up some interest. Who knows? Maybe a lot of anti-Trump people will show up to voice their own opinions. However, don't expect to lodge any complaints about Trump on the event's Facebook page.
AMERICA!