After initially writing about Kevin "the Geek" Kerwin's "March 4 Trump" rally he has planned for March 4 in Lake Oswego, I've since learned that there is a counter-protest planned for that same day and location. However, alert readers have also pointed me toward Kerwin's grotesque social media presence. Spouting conservative opinions online—or with signs plastered to his Lake Oswego computer repair shop—is certainly his right as an American, just as it's our right to roll our eyes at his dumb point of view, correct his ignorance, or simply never step foot in his business. Unfortunately, he doesn't stop with mere insults. Here are a few of his choice posts from Twitter and Facebook.
Sponsored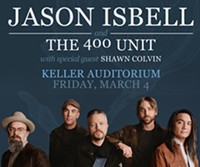 Jason Isbell has established himself as one of the most respected songwriters of his generation. Don't miss Jason Isbell and the 400 Unit, March 4th at Keller Auditorium!
Its time to bomb Muslims back to hell where they came from.. Complete Morons. pic.twitter.com/BR3vVHdreK
— Deplorable Kerwin (@kevinkerwin58) July 15, 2016
UPDATE: The post above has been removed from Facebook, possibly deleted by Kerwin. Unluckily for him, I saved screenshots of all of these. Here's the removed post:

Original post continued:
Also this is one "geek" who really seems to despise women...
@RepValDemings Take your Riots and shove them up your Cunt
— Deplorable Kerwin (@kevinkerwin58) February 16, 2017
It gets worse after the jump.
@FLOTUS @WhiteHouse Goodbye Bitch
— Deplorable Kerwin (@kevinkerwin58) January 18, 2017
Now I know why @megynkelly took down Trump because he didn't ask her to get down on all four's and shake her ass. She got jealous @foxnews
— Deplorable Kerwin (@kevinkerwin58) March 18, 2016
Megyn the Whore that she is :-) https://t.co/D3WseKHcNY
— Deplorable Kerwin (@kevinkerwin58) April 7, 2016
Keep trying to watch Megan Kelly but every time I do I think how fake she is. I wish she never did the debates. Well she does have nice tits
— Deplorable Kerwin (@kevinkerwin58) September 26, 2015
And if you're interested, the Yelp reviews for his Lake Oswego computer store aren't very positive either.