Sponsored
Sketch comedy troupes from all over N. America descend on The Siren Theater for 3 glorious nights.
Kevin "the Geek" Kerwin, one of the main organizers of the upcoming controversial "March 4 Trump" rally, is pulling back his support for the march, according to his recent post on Facebook:
So what caused the split with the "March 4 Trump" organization? Kerwin's racist Facebook posts, according to organizer Carol Pressnall Leak. From the "March 4 Trump" FB page:
I honestly did not know of [Kerwin's] fB posts regarding racist comments from 2 years ago, as I have only known him for a few months through fB. I certainly do not condone those comments, and in fact, find them disgusting. I understand his anger behind the situations that prompted those comments, but certainly not the way he has displayed them on social media. I am sorry that he did this. I know it has really affected him in many areas of his life in a negative way. This is something that HE has to live with.
And later...
This March 4 Trump event is NOT about Kevin Kerwin and his agenda regarding liberals. This event is NOT about his negative and offensive posted fB remarks. This event is certainly not about hate for anyone or anything. This event is all about a group of people meeting up, and marching in support of our fairly elected President. It's a place for us to come together, hear from our local officials, and to march in peace. I personally chose LO because it was in-between Salem and Portland, and because I am well aware of how some Portlanders feel about Trump supporters. Downtown Portland is ugly to me anymore. I will never shop there again and I will stay clear of the whole area. It has turned mean and hateful, in my opinion.

LO is beautiful, peaceful, and believe it or not, there are MANY Trump supporters who live there. This will be a peaceful march along the sidewalks of LO. We welcome all those who support our President, and even for those who aren't sure yet.
Leak continues, saying she wants everyone "to get along" while in the same paragraph calling liberals "snowflakes." I don't know, guys! Sounds like Leak and Kerwin are two peas in a pod. Can't you two crazy kids work it out? All this Trump supporter in-fighting is tearing me apart!
Read the rest here. And find out about the "March 4 Trump" COUNTER PROTEST here.
Sponsored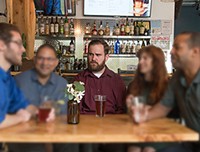 Adults aged 18-35 with good hearing will be paid for their time. Located at the Portland VA Medical Center