Though Portland has one of the largest bicycling scenes in the US, there's something to be said for its lack of diversity, especially when it comes to women of color. While some might attribute our city's overwhelmingly white and male cycling scene to cultural barriers, cost, or safety concerns, there's a new collective of female cyclists of color whose mission is to change that framework.
Friends on Bikes aims to grow diversity in Portland's cycling scene, starting with their first inaugural social donut ride this Sunday. The collective welcomes women, trans, femme, and non-binary cyclists of color to join their cause beyond just community rides. In the future they'll work with nonprofit bike shops around town to host safe and inclusive bike maintenance classes for women of color.
Their website will also serve as an outlet to highlight interviews with people of color making an impact and promoting diversity in Portland's cycling community. As a part of the Friends on Bikes launch, co-founder Molly Sugar recently released the Biking Across America zine. Fifty percent of the proceeds will go to the local nonprofit Bikes for Humanity. Friends on Bikes will host their first social donut ride Sunday March 19 at 9:30 am at Wilshire Park, followed by treats at Coco Donuts. Everyone who participates will receive free donuts and coffee from Ristretto Roasters and Pip's Donuts.
Sponsored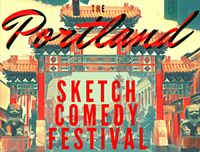 Sketch comedy troupes from all over N. America descend on The Siren Theater for 3 glorious nights.