As a proposal that could allow Portland Mayor Ted Wheeler to exclude people from City Council meetings for up to 60 days finished its inevitable march to passage this afternoon, it was really hard to track the votes.
Four of the unanimous five "aye" votes were drown out by angry demonstrators. Commissioner Amanda Fritz who attempted to speak over the outcry, wound up being largely ignored.
Only for Commissioner Chloe Eudaly—a longtime activist who often gets deference from folks disrupting council meetings—did things eventually quiet down.
"I would like an opportunity to speak," Eudaly said. She had to wait for a minute, but wound up launching into a lengthy and powerful speech about the nature of city council meetings, the duty she feels attendees have for informing themselves, and, ultimately, her support for the controversial ordinance.
Here's the whole thing:
"I'm going to give you the benefit of the doubt that you are not being intentionally provocative that you truly believe the things you are saying," Eudaly told people who've interrupted council meetings for weeks and who'd railed all day against the exclusion law, "but I want to let you know that you are misinformed on some of the things that you are talking about. City Council sessions are not town halls, and that's how they are being treated right now. They're limited public forums and they're not adequate for the public truly to be heard."
She continued: "The public needs to come to council having done their homework. You can be smug about it, but it's not useful for you guys to come here and scream at us about things that are untrue or that we're actually doing. It's a waste of everyone's time, including yours."
Eudaly spoke about her time as a homeless teenager, her experience as the aunt of a person killed in a police shooting, and of her history as an affordable housing activist.
"The fact that I can't singlehandedly and immediately satisfy your demands does not mean that we are not listening to you," she said. Constant disruptions, she said, "are at times undermining my efforts on the very issues you are here to passionately represent."
Throughout most of it, the crowd listened respectfully. Then Eudaly voted 'aye,' and it erupted in shouts of "betrayal!" and "I want my vote back!"
Those shouts are less interesting than the question of what happens next with the exclusion ordinance, which goes into effect in 30 days (and as I have to point out again, bans "any dirk" from city buildings).
In a surprise on Tuesday, Wheeler announced on Facebook that he didn't plan to enforce the exclusion portion of the law until a federal judge had weighed in, since the city believes a 2015 federal court ruling that killed a former exclusion policy still holds sway. Other new provisions (like that ban on dirks and other weapons) would still go live.
Wheeler again repeated his intention today not to enforce the policy "until we have clear word from the federal court system."
"It may not be constitutional," he conceded.
Here's the thing that puzzled a pair of attorneys for the ACLU of Oregon who were in the room: It's not completely clear how that will happen.
The attorneys, including ACLU Legal Director Mat dos Santos, say there's no clear way for the city to get the case before a federal judge. It can't just ask or demand that US District Judge Michael Simon—who formerly slapped down a similar policy—will offer an opinion on the new one, dos Santos says.
One way to get the question before a judge, dos Santos notes, is if the law is challenged in court. But no one can challenge the thing if it's not enforced, which Wheeler says won't happen until a judge rules?
It's a dizzying and potentially unconstitutional merry-go-round, and we've asked the city to provide clearer insight into its legal strategy.
One more thing dos Santos and his colleague Sarah Einowski tell the Mercury: They don't think a federal judge necessarily needs to rule on the policy for it to be enforced.
Sure, Simon ruled the city's former law was unconstitutional, but this is a different ordinance. So even as the ACLU believes the new policy is illegal, they don't think the city needs to wait for a judge's ruling to begin using it.
What was already a testy situation between Wheeler and the civil liberties group isn't likely to improve after today's vote. After calling up the ordinance, Wheeler addressed the ACLU's contention the mayor had been disingenuous when he offered to sit down and hash out the law last week.
"That was a very genuine offer," Wheeler said. "We made ourselves available to ACLU attorneys and ACLU leadership, both in person and by phone. We still were not able to have this conversation."
As the Mercury has reported, dos Santos asked that a Tuesday meeting be rescheduled after a flight cancellation meant he couldn't attend. The mayor's office asked whether other ACLU staffers could meet instead, and dos Santos replied that it wouldn't make sense. Wheeler's office elected to hold a vote on the exclusion ordinance today anyway.
Eudaly also had words for the ACLU. She'd been prepared to vote 'no' unless the group's concerns were addressed, she said, but the ACLU hadn't come forward with a better option.
Dos Santos said after the meeting his group had repeatedly laid out its thinking—similar to Judge Simon's—that Portland is able to kick people out of individual meetings if they're disruptive, but not exclude them into the future.
"I was pretty offended by that," dos Santos said. "The idea that this couldn't wait a week was just nonsense. It's just so silly."
Sponsored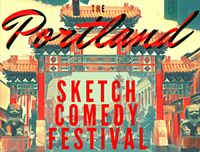 Sketch comedy troupes from all over N. America descend on The Siren Theater for 3 glorious nights.