Don't say we didn't warn you, Portland.
Beginning in August 2013, this newspaper exhaustively covered the unfolding debacle on the Morrison Bridge. Sometimes you cared. Often you didn't.
And now? Your summer is screwed.
Beginning in earnest on Monday, four of the Morrison's six lanes will be closed until October, as the county begins the expensive, laborious project of replacing a badly flawed polymer deck with a new option: a steel grate, partly filled with concrete and overlaid with a concrete-like top. Between design, engineering, construction, and other fees, the whole shebang is slated to cost $10.4 million.
Do you take the the Morrison westbound from the Central Eastside into downtown in the mornings? Not anymore you don't. The bridge is only going to ferry cars from I-5 into downtown.
Want to go faster than 25 mph? Sorry, not allowed.
Already making plans to take the Hawthorne or Burnside instead? So is everyone else.
The Morrison's the busiest of Portland's non-highway Willamette River bridges, and it's about to be massively out of order all summer. Here's the county's overview of the project.
Your options, commuter: Begin riding your bike, or figure out at whom you should direct your outrage.
As it happens, there are plenty of folks!
•For instance, we ran a piece chronicling how the company that supplied the failed bridge deck went to great lengths to hide flaws in the design from the county.
•And one that showed the county knew the deck was flawed and installed it anyway.
•And just for good measure, we wrote about how the engineering firm that helped Multnomah County design the failing bridge deck is the very same firm doing engineering for the incoming deck. Even though the county sued them for the last failure.
Oh, there's more:
• "(Un)Screwed," News, August 7, 2013
• "Water Under the Bridge?" News, August 21, 2013
•"The Tea Leaves," News, September 25, 2013
• "Fingers Crossed," News, October 16, 2013
• "Getting Decked," July 9, 2014
• "Come Shudder At This Video of Damage on the Morrison Bridge," Blogtown, January 23, 2015
•"It's Everybody's Fault the Morrison Bridge is Broken, But a Jury Gave Multnomah County Second-Most Credit," Blogtown, March 9, 2015
Sponsored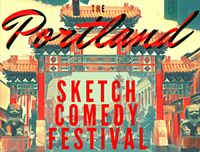 Sketch comedy troupes from all over N. America descend on The Siren Theater for 3 glorious nights.