A Portland activist is facing a felony robbery charge for briefly snatching the glasses worn by a man who instigated a scuffle during a protest outside of the Portland Building last week.
The Portland Police Bureau (PPB) arrested Philip "Standard" Schaefer, 45, on Sunday morning, four days after the protest regarding the Portland police killing of 17-year-old Quanice Hayes in February. The PPB said on Sunday that "Schaefer approached the officers and was filming them as they had coffee when the officers recognized him as the suspect and took him into custody."
The PPB booked Schaefer for second degree felony robbery and coercion. Prosecutors this afternoon knocked off the coercion charge and changed the robbery charge to a third degree felony. Here's a link to what that charge means.
Schaefer's family paid a $25,000 bail to get him out of jail and his attorney unsuccessfully lobbied to have that reduced at his arraignment today. A trial is scheduled for September.
"I have never in my career seen a bail of more than $5,000 for a robbery three," said an aghast Bear Wilner-Nugent, Schaefer's lawyer in court today, in front of a packed room of fellow activists and sympathizers.
ACLU of Oregon Legal Director Mat Dos Santos isn't a fan of the charges.
PPB, the city, & DA are playing games with people's lives. This charge won't stick. Just more protester harassment. https://t.co/YoPVCh9Pji
— Mat dos Santos (@MatPDX) April 3, 2017
Predictable. DA dropped coercion charge entirely, reduced Rob 2 to Rob 3 (which also won't stick). PPB/DA decision to overcharge must stop. pic.twitter.com/BHYY4UmPAB
— Mat dos Santos (@MatPDX) April 3, 2017
The incident was captured on video by the Mercury and a few other media outlets. A group of activists tried to enter the Portland Building, where City Council would be held, to testify about the killing of Quanice Hayes. Building security blocked the door, however, and wouldn't let them in, so activists stood in front of that main entrance for a while to prevent others doing what they weren't allowed to: "If we can't get in, ain't none of your employees getting," said another activist blocking the door. People managed to get in through side doors, however.
Scuffle as guy tries to push through protesters #QuaniceHayes pic.twitter.com/HL3tsAvHKz
— doug brown (@dougbrown8) March 29, 2017
The scuffle with the guy who had his glasses briefly snatched starts when he tried to pushed through protesters and into the building. Protesters wouldn't move and the guy pushed a few people. From my observation, he looked ready to throw down. Schaefer, in the brimmed hat and wearing a tie, didn't back down either and yelled at the guy to not touch people. The guy puffed up his chest and bumped into Schaefer. Schaefer stepped up to him. Another person then put the guy in a chokehold for a couple seconds (that person was charged with assault and strangulation) before Schaefer snatched his glasses from the guy's face. He turned around, walked a few feet, and handed glasses to a security guard.
For that, Schaefer is facing a felony robbery charge.
Sponsored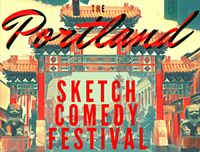 Sketch comedy troupes from all over N. America descend on The Siren Theater for 3 glorious nights.