Listen, Portland. We love you. And we love pizza. So the Portland Mercury is teaming up with dozens of local pizza shops to bring you the second Portland Pizza Week: $2 slices for everyone!
Sponsored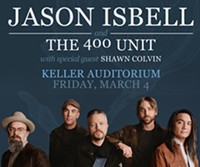 Jason Isbell has established himself as one of the most respected songwriters of his generation. Don't miss Jason Isbell and the 400 Unit, March 4th at Keller Auditorium!
Here are the slices from The 1905, Amalfi's, Atlas, Baby Doll, and Bella. Enjoy them for just $2 April 17-22!
Check out all the slices here!
More live updates at #portlandpizzaweek, on Facebook, Twitter, and Instagram and at portlandpizzaweek.com!
What's on it: Chèvre/Horseradish Cream Sauce, Mozzarella, Beets, Arugula, Toasted Walnuts, Pickled Mustard Seed, Balsamic Reduction.
When you can eat it: April 17-22, 4pm-2am, minors allowed until 10pm. Vegetarian option; takeout available.
What they say: Our Beetza is a blend of sweet, spicy, acidic, salty, and everything good. It's your favorite beet salad and you get to eat the plate!
Buffy the Bleu Cheese Slayer from Amalfi's Italian Restaurant

What's on it:
House tomato sauce, mozzarella, hickory smoked bacon, chicken, and celery, with a house buffalo sauce garlic bleu cheese drizzle.
When you can eat it:
April 18-20 4-10 pm, April 21 4-11 pm, April 22 3-11 pm. Dine-in only, limit one per person.
What they say:
"Still hungry after just a slice? Stop by and try your own mini pizza, 'Buffy the Bleu Cheese Slayer.' It's so good you'll slay all day—just don't forget the Montucky to help wash it down. Cheers!"
What's on it: Smoked Carlton Farms pulled pork, tomatillo and chile verde sauce, balsamic onions, pickled jalapeño, and fresh scallion and cotija cheese.
When you can eat it: April 17-22, 11:30 am-close. Limit two slices per person; takeout available.
What they say: "We smoke our pork butt for 12 hours for best flavor and texture. Our verde sauce is the perfect amount of spice to compliment the smoked pork, and the balsamic onions add a unique touch."
I Can Be Your Gyro, Baby from Baby Doll Pizza
What's on it: Tzatziki base, gyro lamb, fries, red onion, tomato, and feta.
When you can eat it: April 17-22, 11 am-10 pm. Vegetarian option; limit two slices per person; whole pies and takeout available.
What they say: "It's a gyro on a pizza! House-made tzatziki base and fries served on top instead of on the side."
She Persisted from Bella Pizza
What's on it: White sauce, mozzarella, grana padano, mushroom duxelles, roasted leeks, marinated sun-dried tomatoes, sour beer gastrique, and honey-beer mustard glaze.
When you can eat it: April 17-22, 11 am-10 pm. Vegetarian option available; dine-in only.
What they say: "Vegetarians rejoice! 'She Persisted' is a sexy, complex pizza pie that will surprise your tastebuds. The kiss of our sour beer gastrique, made with local Breakside Brewing's Passionfruit Sour Ale, brings the French-inspired flavors together in an unexpected way. Vive la résistance!"