Listen, Portland. We love you. And we love pizza. So the Portland Mercury is teaming up with dozens of local pizza shops to bring you the second Portland Pizza Week: $2 slices for everyone! Here are the slices from Pizzicato (3 locations), Ranch, Roman Candle, and Rovente Pizzeria (2 locations).
Sponsored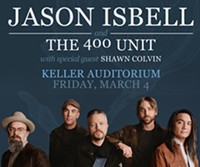 Jason Isbell has established himself as one of the most respected songwriters of his generation. Don't miss Jason Isbell and the 400 Unit, March 4th at Keller Auditorium!
Check out all the slices here!
More live updates at #portlandpizzaweek, on Facebook, Twitter, and Instagram and at portlandpizzaweek.com!
What's on it: Olive oil and garlic, mozzarella, blanched asparagus, prosciutto, gorgonzola, parmesan, and fresh basil.
When you can eat it: April 17-22, 11 am-9 pm. Vegetarian and gluten-free options available; takeout and whole pies available.
What they say: "Seasonally fresh ingredients with a blast of flavor."
More slices after the jump...🍕
What's on it: Pepperoni, salami, oil-cured chiles, ricotta, pepperoncinis, and kalamata and castelvetrano olives.
When you can eat it: April 17-22, noon-midnight. Limit two slices per person; takeout available.
What they say: "A square, Sicilian-style pan slice, with crust that's crispy on the bottom and soft and chewy in the center. Our pies are built with aged mozzarella, and a rich, garlicky red sauce on top in the classic Sicilian style. This slice is our take on a classic Italian sub."
What's on it: Tomato, basil, maitake mushrooms, Mama Lil's sweet peppers, and goat cheese.
When you can eat it: April 17-20 11 am-4 pm
What they say: "One great thing about 'The GOAT' (greatest of all time) is by using goat cheese, lactose-intolerant people may be able to enjoy our slice easier than a slice with a cow cheese!"
Rovente Pizzeria The Red Hot Italian
What's on it: Signature habanero red sauce, mozzarella, Italian sausage, red onions, green onions, and garlic.
When you can eat it: April 17-20 11 am-9 pm, April 21-22 11 am-10 pm. Takeout available.
What they say: "Our Red Hot Italian pizza is a kick in the butt, made with fresh ingredients and our signature Spicy Sauce. It's made daily with fresh habaneros."