On Thursday, April 13, a dinner hosted by Chef Philippe Boulot (Multnomah Athletic Club) and the Oregon Beef Council named Greg Denton (Ox, SuperBite) Chef of the Year. Between the Argentinian-style flame-broiled asados and the Double Stack at SuperBite, Chef Denton has ably demonstrated that he knows his way around some bovine.
Keeping with the theme, a dinner in Denton's honor featured beef served five different ways — a perfect bite of tartare with celeriac remoulade, served on a potato chip, was a highlight that we'd like to see more often — was enjoyed by big-buckled cowboys and well-heeled food media personalities alike! This might sound like a bunch of hob-nobby hoo-ha, but when the nice folks (and sponsors of many of your favorite Portland Mercury events) of Nicky USA are at the party, you know it's gonna be a good time.
Hot beef injections all around!
Sponsored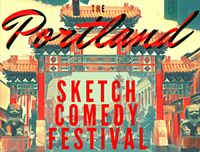 Sketch comedy troupes from all over N. America descend on The Siren Theater for 3 glorious nights.