As globalization sweeps the world's supermarkets and kitchens, not only are old ways of preparing food becoming lost, they're being replaced by processed foods that are not only worse for our health, but disconnect us from our culture and our history. In the Middle East, where bread was invented, this means that the ancient art of baking bread is quickly being replaced by the worst thing since sliced bread. (Actually, it is sliced bread. That is the worst thing.)
One outspoken advocate for the value of creating foods the old fashioned way, Chef Badr Fayez (judge on Top Chef MENA and Master Chef Arabia), will be visiting Portland to spread the gospel. Joining Chef Fayez will be Tabor Bread owner Tissa Stein, and Sofie Sherman-Burton from People's Co-Op, with Mercury columnist and culinary author Heather Arndt Anderson (hey, that's me!) moderating a panel discussion on the future of food and cooking in the Middle East and in America, and the role of bread in our diets and our very humanity.
When: Monday, April 24, 2017 at 6 pm (a reception with refreshments will be from 7-8 pm)
Where: University Club of Portland | 1225 Southwest 6th Avenue
Cost: FREE! Register for your free tickets at EventBrite.
This event is sponsored by the Middle East Institute.
Sponsored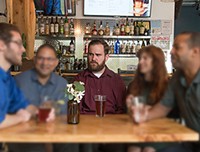 Adults aged 18-35 with good hearing will be paid for their time. Located at the Portland VA Medical Center