In a mere three months, Donald Trump—who lost the popular vote by 2,864,974 votes—has fucked up a bunch of shit. But the most terrifying of those fuck-ups have been his administration's brutally ignorant attacks on science.
Take Trump's cabinet appointments—which included making an ExxonMobil oil profiteer Secretary of State, and giving the Environmental Protection Agency to a dipshit who doesn't believe in global warming. Take the gag orders he placed on government scientists, or his pandering to oblivious anti-vaxxers. Take the deletion of scientific data from government websites, the slashing of scientific budgets, the approval of the Keystone XL Pipeline, or the reversals of President Barack Obama's landmark climate change efforts.
Even before Trump, deadly, man-made catastrophes—global warming, ocean acidification, and habitat depletion—were having major effects on life around the planet. Now, those effects are going to be a lot worse.
But don't fall into despair quite yet. Part of a simultaneous series of protests taking place nationwide, the March for Science Portland is set to take over Portland tomorrow—kicking off with a rally in Tom McCall Waterfront Park that will lead into a march through downtown, followed by live music and a "Science Expo" where you can find out how to continue being involved in what will be the defining issue of our time.
Trump's hostility to science isn't just an attack on humankind's accumulated knowledge—it's an attack on all of us, and its repercussions will affect everyone on Earth, every day, for the rest of our lives. Time to fight back.
March for Science Portland, Sat April 22, 10am, Tom McCall Waterfront Park, free.
Find more resistance events with our Resistance & Solidarity Calendar and in Emilly Prado's weekly column From Slacktivism to Activism, and find regular old boring events in our regular old boring Things To Do Calendar.
Sponsored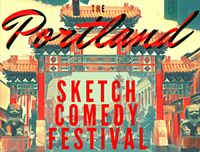 Sketch comedy troupes from all over N. America descend on The Siren Theater for 3 glorious nights.