As promised, Mayor Ted Wheeler has assumed control of all of the city's 20 departments and bureaus this morning, as he gets ready to unveil his first budget on Monday. (Here's a PDF of the executive order Wheeler issued.)
And while the specifics of that budget—and a new city revenue forecast that began making the rounds yesterday—are so far being kept quiet, it appears Wheeler will need to find nearly $200,000 to pay for beefed up City Hall security.
That's because Wheeler this month took the unprecedented step of requiring visitors to City Hall to submit their bags for inspection by a newly bolstered security force. According to the new protocol, the city's employing three more guards than usual these days. On a recent visit, two of the guards were standing outside of City Hall's main entrance, ushering visitors through the appropriate door and letting city employees pass through another. A third guard waited inside to check bags.
The policy is Wheeler's latest strategy for dealing with outbursts at City Hall meetings recently, and a response to staffers in the building who have said they don't feel save amid frequent protests (those protests have rarely involved objects that people might be carrying in their bags, though at least one did feature tents set up on the building's second floor).
We were curious: What's this tighter security cost? The city's Office of Management and Finance broke it down like so:
The new bag inspection process has increased security personnel by three officers, 9.5 hours per day, five days a week.

3 Officers x 9.5 Hours a day, 5 days a week @ $25.45 per hours = $3,626.63
Spread out over 52 weeks (an oversimplification, given city holidays), that amounts to $188.584.76 per year so that officials can check your bag.
There will almost certainly be more money put into tamping down City Hall, though. As we reported last week, the city's looking to contract with a private consulting firm to create a" Security Master Plan" at all city buildings.
Sponsored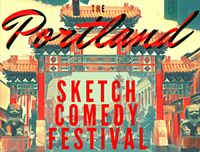 Sketch comedy troupes from all over N. America descend on The Siren Theater for 3 glorious nights.