It was national news this week when the 82nd Avenue of the Roses Parade was cancelled. The Multnomah County Republican Party planned to march in it, an anonymous email threatened to "shut it down" and "have two hundred or more people rush" the Republicans if they were allowed to march, and some right wingers promised to fight the left-wing "antifa" they believe were responsible for the threat.
After the cancellation, a group of Trump-loving right wingers organized a "March for free speech," and met at Montavilla Park around 10 am Saturday morning. They gathered in the fenced-off "futsal" field for short speeches. Left-wing protesters gathered around it and made noise. Armored-up police officers tried to separate the groups as much as possible. A number of helmet-wearing Trump supporters brought thick wooden sticks with zip-tied flags on them, looking ready for battle, and police made them put most of their sticks back in their cars.
Mayor Ted Wheeler made a brief appearance at the park, shaking hands with police officers and park rangers. He was teased and sworn at by a number of lefty protesters and dismissed by a number of right wingers. He left after a few minutes.
At the park, a Trump supporter carrying a baseball bat (quickly confiscated by police) tried to fight people, and yelled "fuck all you n****rs." He'd later give the Nazi salute. It should be noted that a number other Trump fans disavowed him and wouldn't let him into the futsal court were the first part of the rally was being held. It should also be noted that there were a number of open white nationalists in the crowd, including one wearing a "Germany" shirt who was enthusiastically ranting about "white genocide" in South Africa and his desire to have all white people in South Africa move to America because Black people, he said, are "naturally cannibals."
After some speeches in the court, the right wingers marched for more than two miles on the sidewalks down 82nd Ave. Protesters followed and mingled in the crowd. Armored-up cops from the Portland Police Bureau and Multnomah County Sheriff's Office kept a watch the entire time during the march and tried to separate the two groups. There was pushing and a lot of yelling. At least three people, left wingers, were arrested today.
The march ended at a Burger King parking lot about 2.3 miles from Montavilla Park. The city used three TriMet busses to take people back to the park.
***
Here are my photos and video from today.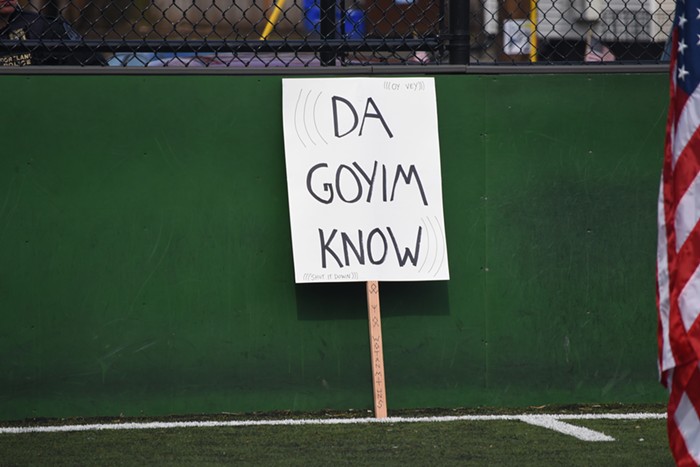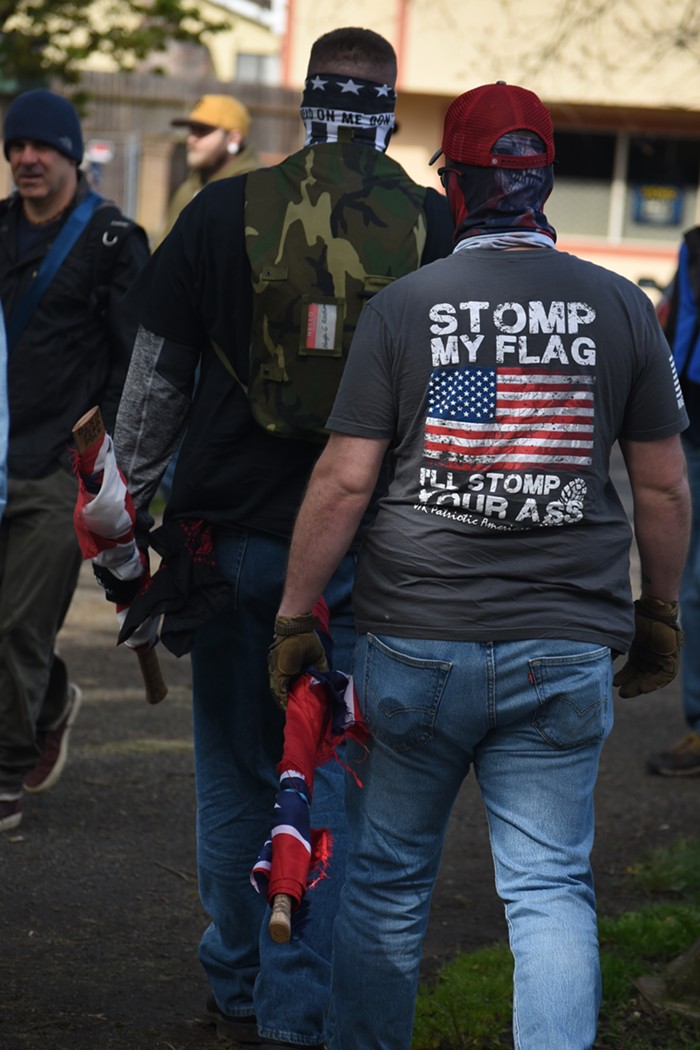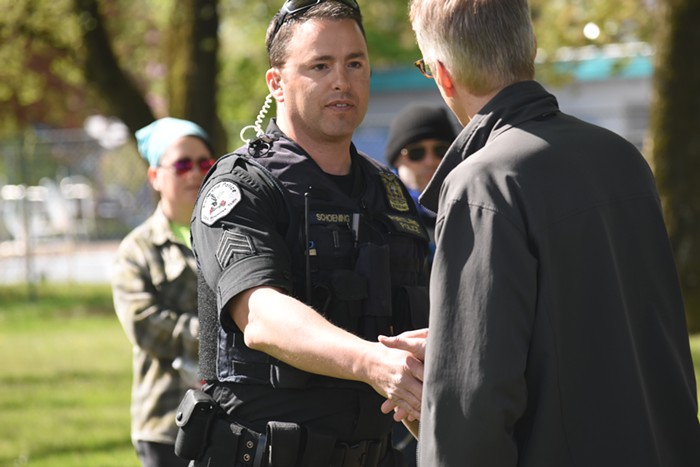 Mayor Ted Wheeler showed up, shook some cops hands, got yelled at/teased by protesters, criticized by right wingers, and left. pic.twitter.com/fd7u8Uy285
— doug brown (@dougbrown8) April 29, 2017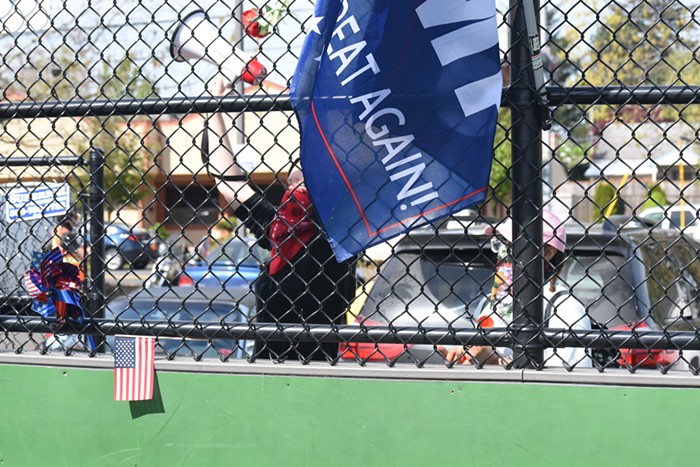 At the right wing rally, left wing protest at Montavilla Park. Protesters' air horns making noise. pic.twitter.com/OUspOmX7Nf
— doug brown (@dougbrown8) April 29, 2017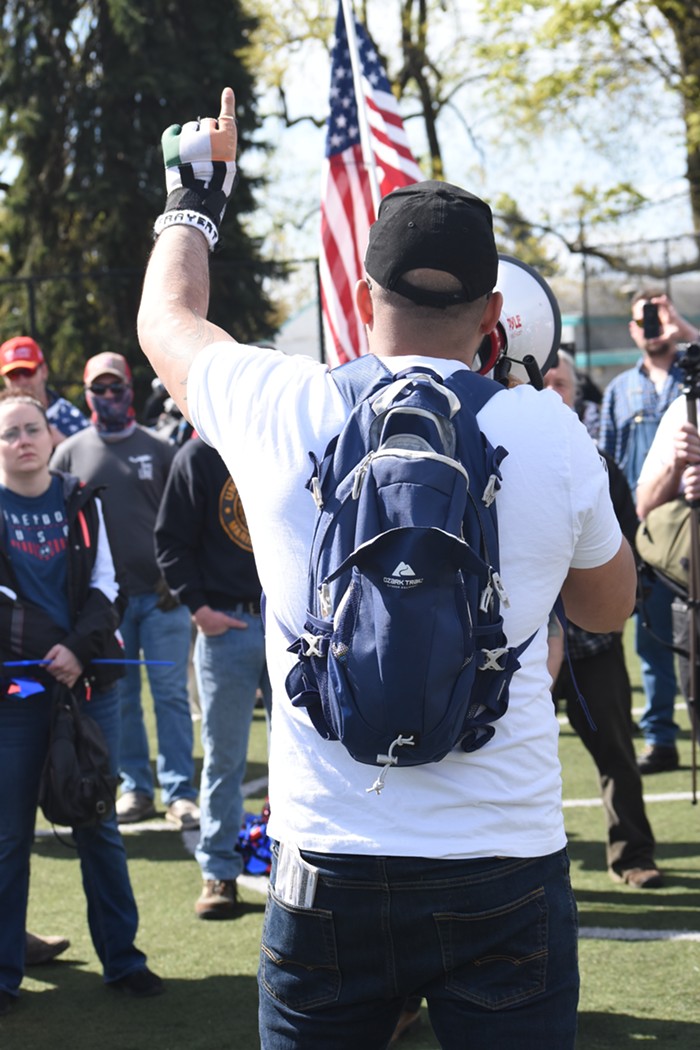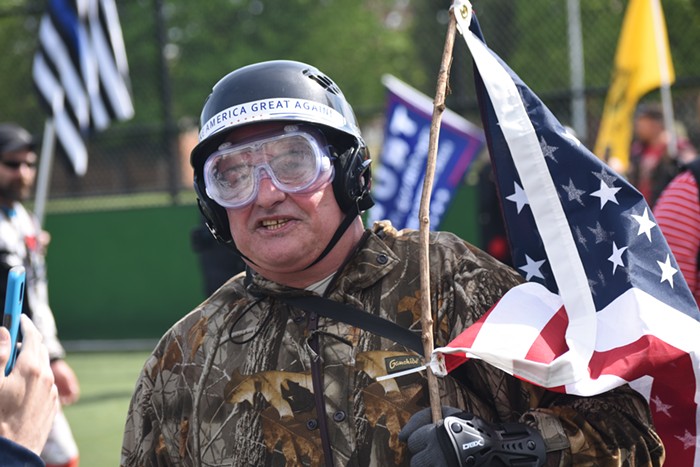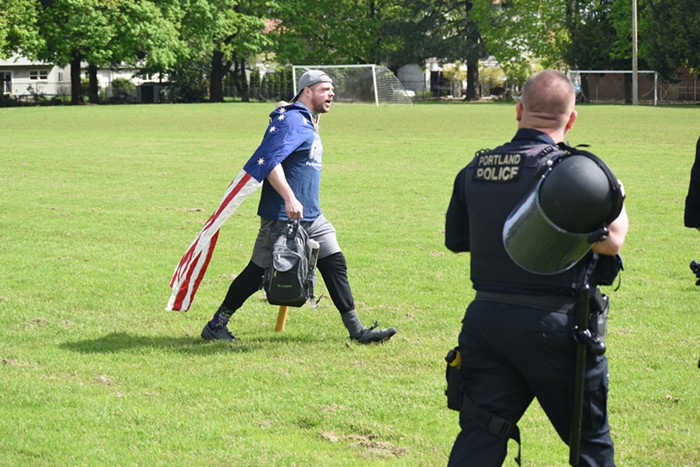 Cops trying to separate the two groups:

Riot cops trying to separate groups on sidewalk pic.twitter.com/KBhtnkK1Z7
— doug brown (@dougbrown8) April 29, 2017
Police loudspeaker is very loud… trying to separate groups pic.twitter.com/gomubm9YFc
— doug brown (@dougbrown8) April 29, 2017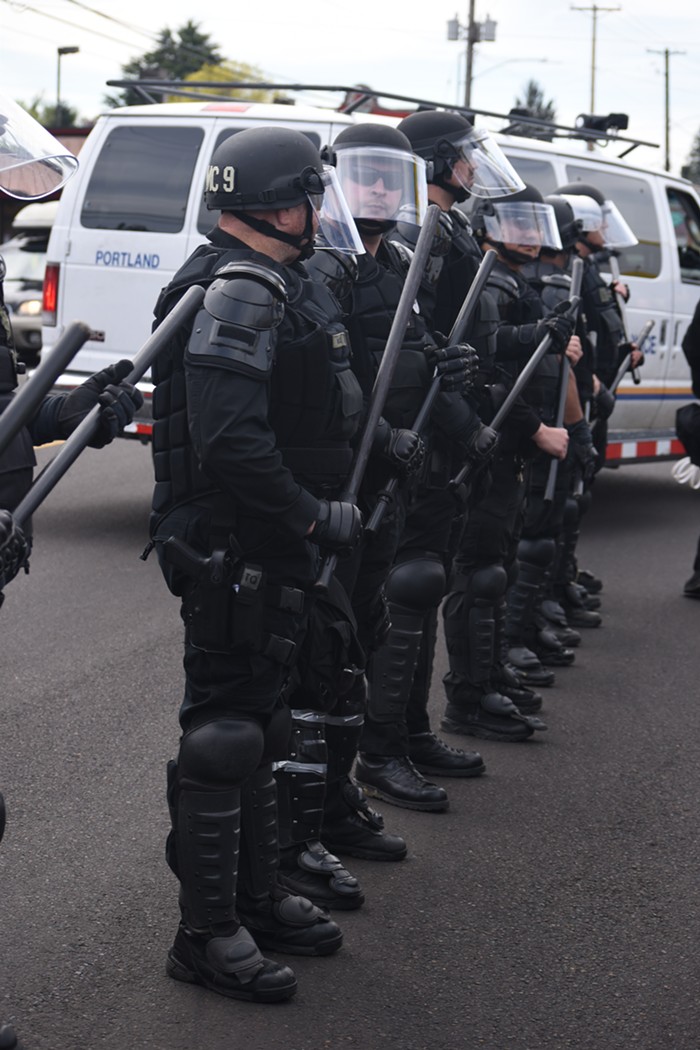 Police watching very closely. Right and left in same crowd. pic.twitter.com/ypZ6htb5FB
— doug brown (@dougbrown8) April 29, 2017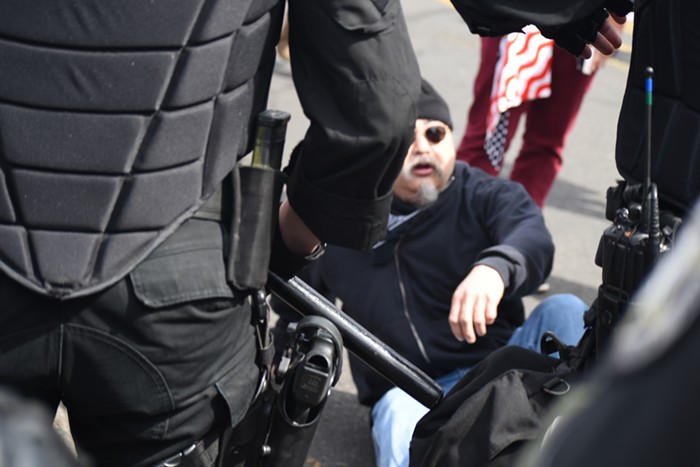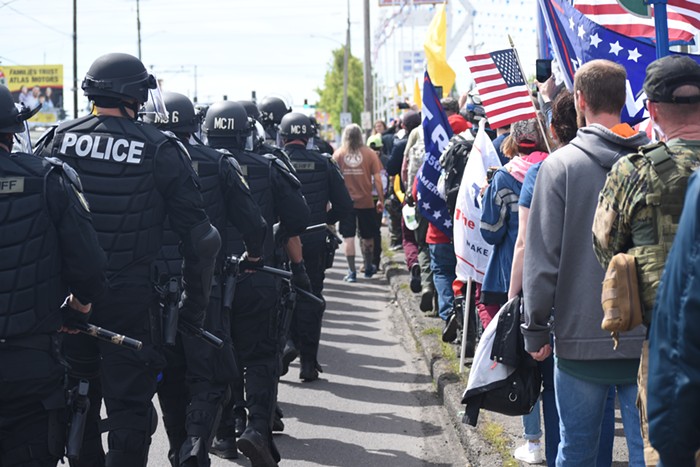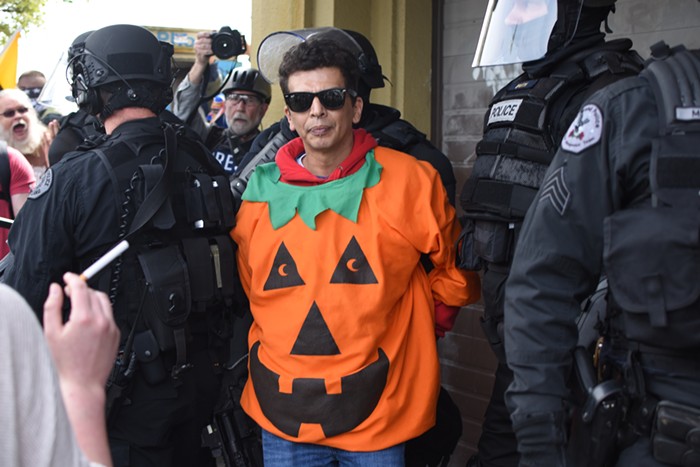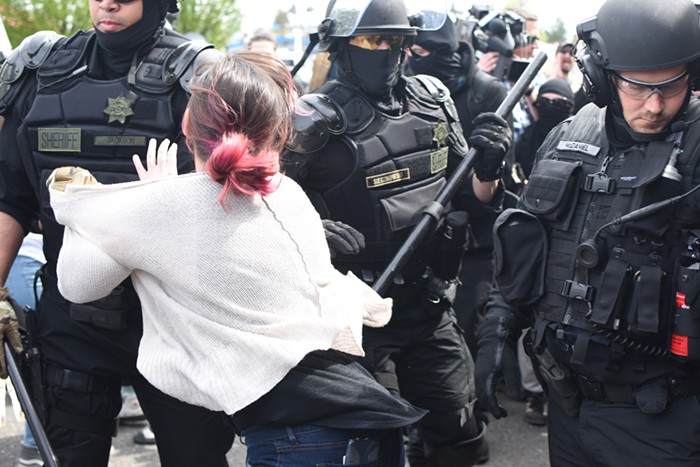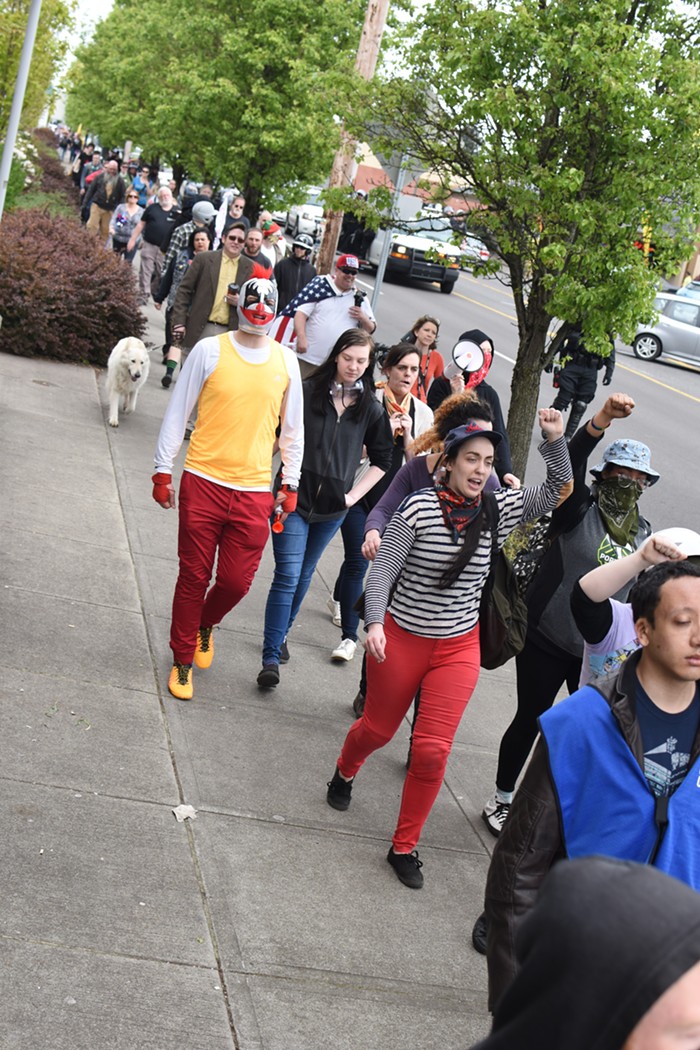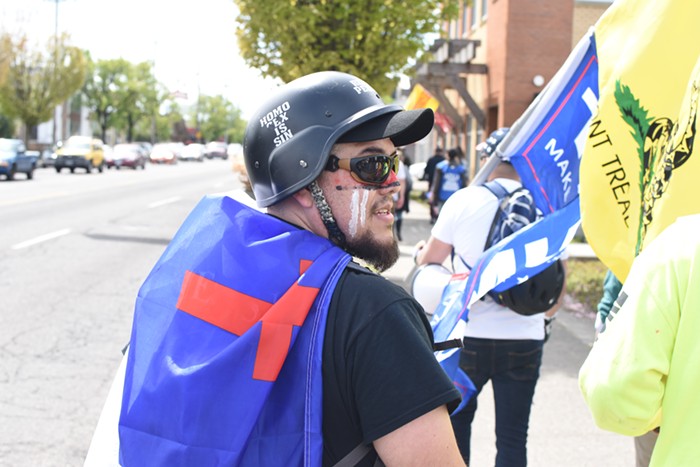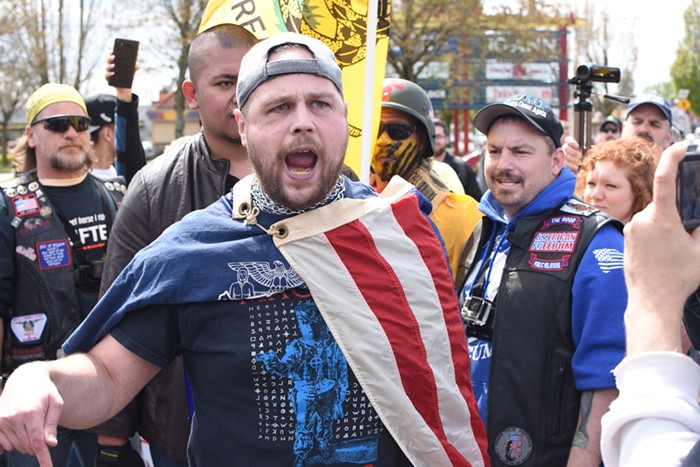 Right wing street preachers are yelling at a trans person pic.twitter.com/OuclawZBZq
— doug brown (@dougbrown8) April 29, 2017
A TriMet bus is taking Trump supporters back to Montavilla park pic.twitter.com/ZjlOatwjay
— doug brown (@dougbrown8) April 29, 2017
Sponsored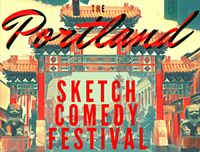 Sketch comedy troupes from all over N. America descend on The Siren Theater for 3 glorious nights.