Sponsored
Sketch comedy troupes from all over N. America descend on The Siren Theater for 3 glorious nights.
The stigma around marijuana is changing—longtime subversive weed magazine High Times was just sold for a whopping $70 million, a famous "drug trafficker" who spent almost a decade in prison for smuggling weed to Bali is finally released, and the Secret Service no longer cares how many times you smoked weed—they need someone to guard the Donald (from himself?). Read on.
Famous Marijuana Trafficker Schapelle Corby Returns to Australia
It's like a real-life story of the film Midnight Express: Schapelle Corby was arrested in Indonesia in 2004 for smuggling 9 pounds of pot into Bali in her surfboard bag. After a sustained media campaign, and pressure from the Australian government, she's been released on parole after serving 9 years of a 20-year sentence. And she's already using the hashtag #convfefe.
The Secret Service Is Chilling Out on Weed Restrictions
The Secret Service is looking to add 3,000 more agents to their ranks over the next few years—they need to staff for Melania's 24-hour New York City security detail and to keep track of Trump's weekend trips to Mar-A-Lago and other family excursions, after all.
So, in response to the fact that most young people have smoked weed at least once or twice before, they are changing their policiesfor new potential hires. They no longer care how many times an applicant has smoked weed, but instead are going to focus on the last time an applicant consumed marijuana before they applied for the job (was it a year before? An hour?).
Magazine Sale Is a Sign of The High Times
High Times, started as a counterculture rag about weed 43 years ago, has now been sold for $70 million to Los Angeles-based investment firm Oreva Capital (whose investors include Damian Marley, son of the late Bob Marley and venture capitalist Adam Levin). The investment group says they plan to expand the magazine's presence and sponsorship of the Cannabis Cup, their signature event. No word on whether their famous centerfolds of those sexy, dank buds will continue.
Colorado's "Marijuana Tax Cash Fund" Helps Fund Schools and Mental Health Programs
Colorado raked in $105 million from marijuana tax revenues last year—and they're putting the money to very good use. The money will go towards housing assistance to the homeless, reducing incarceration rates of the mentally ill in jails, and sending health professionals to counties suffering from the opioid epidemic.
African-American Woman in Washington State Denied Marijuana License Because Her Husband Is in Prison
Check out The Stranger's Steven Hsieh's story about an African-American woman in Washington State who tried to get a marijuana license but couldn't—because her husband was in prison: "The WSLCB maintains that Haines-Marchel only has one option if she wants to sell legal weed," the article states, "'She would have to get a divorce,' said board spokesman Brian Smith."
Weed with Tobacco Is Bad for Your Health But Good For Your Memory
Concludes a new study by University College London. The study debunked a popular myth – that smoking tobacco with weed will get you higher. But it also showed that mixing weed with tobacco (popular among the Europeans but less of a thing here) will help sharpen your memory (or least, lessen to impact of short-term memory loss that happens with pure cannabis alone) and increase concentration. However, adding tobacco to weed increases the risk of heart disease and raises blood pressure.
Sponsored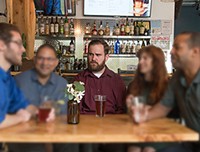 Adults aged 18-35 with good hearing will be paid for their time. Located at the Portland VA Medical Center