Vox has this handy-dandy interactive guide to the upcoming solar eclipse
, which is scheduled to cross America on
Monday, August 21
. Unless you've been living under a rock, you know that parts of Oregon will get to see the eclipse in totality, meaning the entire sun will be blocked by the moon for a brief moment of darkness. You've also probably read that every campsite and hotel in the state is already booked solid.
Good news, though—looks like vantage points from here in Portland will see anywhere from 98.9 to 99.6 percent of the thing. Which, if you round up, is basically all of it. Punch in your zip code into Vox's interactive tool to see just how much of the eclipse you'll be able to experience without leaving your back yard. The Mercury office, for example, will be able to see 99.4 percent of the eclipse. Which is great, because it's on a Monday, and we have to work.
So if you totally forgot to plan ahead, you're looking pret-ty smart right about now.
Sponsored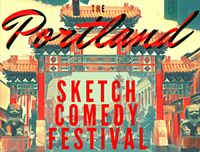 Sketch comedy troupes from all over N. America descend on The Siren Theater for 3 glorious nights.