After nearly two decades with her hometown police department, Oakland Deputy Police Chief Danielle Outlaw, 41, is headed north to lead the Portland Police Bureau (PPB). She'll take over for Chief Mike Marshman—who's using his vacation hours before officially retiring—this fall.
We don't know much about Outlaw yet, so we asked someone who does: prominent Oakland civil rights attorney John Burris.
"I've sued the Oakland Police Department (OPD) more times than I can count," Burris tells the Mercury. Burris, however, holds Outlaw in high regard, calling her a "progressive thinker about modern policing" who's open to listening to community members.
Burris was one of the attorneys who filed a federal class action suit 17 years ago against the OPD on behalf of 119 people over the "Riders"—a group of officers who planted drugs, falsely made false arrests, and assaulted people, among other corrupt activity.
Oakland settled with litigants for $11.9 million and entered into a "negotiated settlement agreement" with the feds to implement court-ordered changes to the department, similar to Portland's own more recent settlement agreement. Outlaw has been among the police officials tasked with implementing the changes, Burris says, and he's been watching closely.
In more recent news, Burris is the attorney representing a young woman who accused a number of Oakland and Bay Area cops of statutory rape. The accusations and subsequent departmental coverups, of course, have been explosive and the department has been in turmoil. Outlaw, the attorney says, is clean.
Here's a portion of our chat with Burris about Outlaw.
***
MERCURY: How do you know Danielle Outlaw?
BURRIS: I'm a civil rights lawyer who's sued the Oakland Police Department more times than I can count. I'm actively involved in a case, a negotiated settlement agreement involving the 'Oakland Riders,' which has been going on for a number of years. I've been involved in trying to reform the department, much like they're trying to do up (in Portland).
I have known [Outlaw] in two capacities, one of which she is part of the command staff—chiefs, deputy chiefs, the mayor, sometimes city manager, other political leaders, who meet on a regular basis to determine whether the city is in compliance with the various tasks that are set forth in the negotiated settlement agreement, which is based on this case I'm involved with for a number of years. She's been an active member of that group of command staff in discussing those issues. She for the most part has been responsive in talking about the issues of recruiting and hiring. She's been at the forefront of discussing those issues, working towards putting forth a plan around those issues.
***
How do you think she'll do as police chief in Portland?
She's a progressive thinker about modern day policing, she's familiar with 21st-century policing issues. I think that she understands the challenges that a police chief has when they have different constituencies to deal with—the community, the political people such as the mayor and city manager, the police department and police officers themselves—all of whom have competing interests.
You have a union that is all "more, more, more" for officers that's not necessarily in line with the chief's overall goals. You have to figure out how to marshal all of those groups together to work on an agenda. I think she's fully capable knowing she understands those issues and I think she's fully capable of bringing them together.
Any new chief will have some resistance—the old guard—and she'll have to deal with that and figure out whether they're going to come along or have to be excised out of the department. It'll be up to her to figure out a reliable command staff—that's part of the job. I think she's capable of that. I've seen her in meetings, and she has what I refer to as "good eyes"—she watches, she listens, and she assesses. Those are skills you need as a chief to make a decision. I don't think she's afraid of making a decision.
***
Is she a civil rights advocate?
I know she understands civil rights issues clearly. I've had a lot of dialogue with her about these issues, I've been on programs with her where we discuss these issues. I've been on seminars with her where she's been very skillful of bringing new ideas to police officers, command staff, lieutenants, and captains, getting them to appreciate that you have to be more forward thinking. I think she is a proponent of 21st-century policing that was put forth under the Obama administration's Department of Justice, and there are a lot of good ideas in there.
If she implements those ideas, she'll move the department in a very progressive way. Civil rights are very important and she knows them—I've been involved in a lot of those issues here and she knows those issues very clearly. And she appreciates that officers are often put in difficult situations but that there's a standard they have to follow. Transparency and accountability are issues she firmly appreciates and understands. I think she'll be a chief who's progressive in thinking and understanding of these kinds of issues.
***
And, again, she didn't get caught up in the recent sex abuse and coverup scandal?
She did not get caught up in it at all, granted she didn't have that assignment. The department is pretty closed with these issues, and it's still being developed because there's certainly a view that a number of officers actively involved, command people, didn't act professionally in the best interest of the department. But she wasn't part of that at all.
***
Like you mention, police unions and civil rights/reform advocates almost always have conflicting goals. What do you think her relationship will be with the rank-and-file union here (Portland Police Association)?
That's going to be a challenge, particularly for a chief who comes from the outside. The union people, you can kind of wait them out, put roadblocks up, don't enforce the demands. It is a paramilitary organization, so officers are trained to follow orders.
It's a question about whether or not they don't follow orders—is she in a position to make them pay? You have to set a tone that you are in charge and certain conduct will not be tolerated. There will be people supportive of the new position she has, the problem is you will have some who will not be, and they can make life difficult for her. She's got to figure out how to work through those issues. It won't be the easiest thing because when you're from the outside and/or there was a strong association with the previous chief, you have to overcome that and gain the trust of of the officer—that you're for them. The police chief can't tear them down, but there's the issue of accountability—there's a bad relationship between with the community when there's an unwillingness to hold officers accountable. Those are issues she's got to be strong on: accountability and transparency.
***
What else should Portlanders know about our new police chief?
She's fair, she's a fair-minded person. That I know. She appreciates community concerns about quality policing, and I think she will effectively communicate with the community, politicians, and hopefully the officers themselves.
Sponsored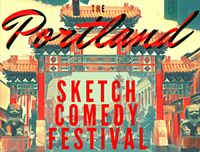 Sketch comedy troupes from all over N. America descend on The Siren Theater for 3 glorious nights.