Sponsored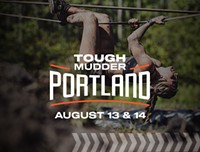 Lock in your summer adventure, Portland. Join us for world famous obstacles over a 5K or 10K distance.
A white Portland man is accused of yelling racial slurs at two Black people while physically preventing them from boarding a MAX train at the Providence Park station on Tuesday evening.
Rick Duncan, 53, allegedly charged at the two people at the MAX station, called them "n******", told them to "go home," and put his hands on one of the two to prevent her from boarding the train after it arrived and threatened to beat her up, the probable cause affidavit says.
A witness backed up their account to police that Duncan was yelling racial slurs at them. The two apparent victims tracked down a cop. Police tracked down Duncan.
Duncan initially denied he yelled slurs, the affidavit says. He then told cops that he only said "What's up my nigga"—the racial slur, but ending with an "a" and not an "er"—to the pair. According to the affidavit, he then said increasingly racist things in front of the police.
"Ducan said 'These ghettos' just get him so angry," the affidavit states. "Duncan also said he is 'sick and tired of these people having babies and moving out here.' ... As Duncan was being placed in the patrol car, he shouted more racial slurs."
Duncan is charged with intimidation in the second degree (a bias crime) and harassment.
A social media post from a confirmed witness in this incident has been shared widely on Facebook since it was published yesterday. It calls into question how a police officer at the scene handled the complaint. The post said the witness brought up how Duncan "could be another Jeremy Christian"—the Portland man who killed two people and severely wounded another on a MAX train in May—and the officer, the post said, blamed one of the victims, and not Christian, for the stabbing deaths.
We will update this post when more information comes in. Know anything? Reach out confidentially to me at doug@portlandmercury.com.
Update: Portland Police Bureau spokesperson Sgt. Chris Burley says the officers in question weren't from the PPB:

The Transit Division is comprised of multiple agencies from around the Portland Metropolitan area. The two officers that responded to the incident involving Duncan, at the Providence Park Transit Station, are assigned to the Transit Division from Tigard and Gresham Police Departments. Both officers agencies have been notified for potential follow-up investigation.
For the latest in information about rallies, marches, and political events, consult the Mercury's RESISTANCE & SOLIDARITY calendar. Want to publicize an event? Send the info to calendar@portlandmercury.com.