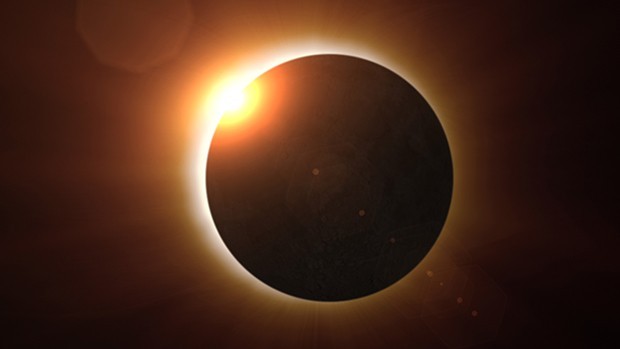 Are you not leaving Portland for the eclipse because you don't want to wear a diaper while stuck in traffic for 15 hours just to see three minutes of yarn pouring out of the sun? That's okay! You can see 99.4 percent of this meteorological event from right here inside Portland. It's no totality, but it's something, right?
That being said—my dear procrastinating friend—let's make this last-minute eclipse plan. First, you'll need some eclipse glasses. Unless you want to end up like this guy (you don't). Don't bother trying to buy them anywhere, as most places are sold out. Here's what to do instead. Or you can get real crafty and just stick your head in a box, like this cool guy!
Now that you're not going to burn out your retinas, let's figure out where you can watch the eclipse in Portland.
How about on top of a parking garage? NOPE.
In your car? ABSOLUTELY NOT.
Don't plan on experiencing the #OReclipse from your car. Stopping on the roadway is dangerous and illegal. Also, don't let your dog drive. pic.twitter.com/r9ODbSnimd
— Portland Police (@PortlandPolice) August 18, 2017
Shanghai Tunnels? NO. WAY TOO DARK.
Portland Art Museum? NOPE. CLOSED MONDAY.
Club 21? SHIT NO.
Enough guessing! Here's the Mercury's listings of spots to watch the partial eclipse in town, and don't forget to check out our totally unhelpful eclipse issue for a guide on how to survive the totality, a word from Nostradamus (who predicted this is how the world will end), and even a note from the Moon on his feelings about this cataclysmic event: "I Am Mortified by the Attention and Apologize for the Disruption."
Enjoy your totally average Monday where the sky goes dark!