The Thorns shut down the Houston Dash 2-0 Saturday in front of a whopping 19,672 fans at Providence Park. INVERTED SCISSOR KICKS AND ROUNDOFF BACKFLIPS!
The stadium was absolutely electrified during the match. Thorns fans weren't just into it, they were full blown "Let's get a Thorns face tattoo after the game!" into it. And I was one of them. I would have happily gotten "Raso" tattooed on my neck, but luckily I had plans to meet up with some non-sports affiliated friends who fervently talked me out of it. I added up the attendance from the four other games in the league this weekend and came to a total of 14,490. I checked my math cause, you know, math – and yes, that's the correct number and it's ADORABLE.

ELECTRIC HALVES
I was skeptical of how the game would go when I arrived to some unanticipated changes at the stadium. First off, there was a different voice doing stadium calls on the PA and then someone different sang the National Anthem. You can't just CHANGE things without letting people know! These TWO differences would SURELY be the demise of the Thorns! It's not that I am superstitious, I'm just not good with change. NEW COKE WAS EXTREMELY TRAUMATIC FOR ME.
The Thorns exploded into the first half with six shots to Houston's three shots. Portland midfielder Amandine Henry nearly blasted a header into the net in the first two minutes, but no luck! It was obvious that the Thorns didn't come to Providence Park for the $12 beers and face-painting booth—THEY CAME TO DA-DA-DA-DOMINATE! Both teams split possession fairly equally throughout the first 45. Thorns defense and midfield played tighter than an unhappy hamstring, resulting in five—count 'em, five—fantastic offsides calls on Houston. LOCK UP THE BACK LINE AND THROW AWAY THE KEYS!

The fight came to fruition only once in the first half when Thorns midfielder Lindsey Horan headed an extraordinarily placed ball from Meghan Klingenberg. She used her noggin to blast the ball down for a funny little bounce and a totally sassy and satisfying goal. AGGRESSIVE HIGH FIVES TO UNSUSPECTING STRANGERS!
Not only did the Thorns look intent on scoring, there were also constant, intentional efforts to connect on the field. This team is still growing, both individually and together as a team. TEAMWORK IS A PROCESS, NOT A DESTINATION!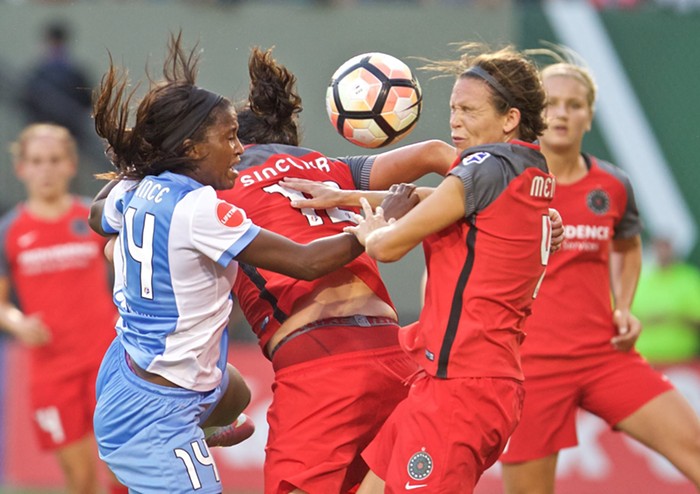 I don't know how the Thorns managed to do it, but the game got even more turnt in the second half. Fans went absolutely BANANAS FOSTERS when Portland forward Nadia Nadim triumphantly returned to the pitch after a long break with the Euros. And the fervid roar amplified again when midfield master Allie Long was subbed in.
Let's understand that this game was not easily won. The Dash put up a good fight, and there were parts of the game where Houston definitely controlled the field. But the Thorns knew when to pull back and slow the clock and energy down. And despite the electric energy coming off of the stands, the Thorns showed great emotional control and focus.
There were copious fouls called throughout the game. It was as if the ref was playing a totally rigged game of Uno where she had all of the yellow cards. She dolled out three yellow cards to both teams and Houston's Rachel Daly was given a red card and ejected from the game after some roughhousing in the goal box. EASY SISTER LET'S NOT GET CARRIED AWAY!
The Thorns' second and final goal of the night was scored in the 48th minute when Henry headed an assist in from Nadim. LET'S ALL TRY TWERKING AGAIN! (Nope, I still can't quite do it.)
I DON'T WANT THIS TO END
Two minutes of stoppage time was added to the end of the game and when the crowd started yelling, "ONE MORE GOAL! ONE MORE GOAL!" It felt like the entire stadium wanted that game go on forever. I FEEL YOU MICK JAGGER—I CAN'T GET NO SATISFACTION EITHER!
It took me hours to come down from this game. My heart was racing and there were so many things I wanted to do besides sit in traffic and talk about the damn eclipse.
Here is a list of things I wanted to do after the game that really surprised me, as these are things that I have never done:
• Run fast for a long time.
• Karaoke that song "Wake Me Up Inside" by Effervescent. Or are they called Incandescent? Luminescent? Whatever.
• Swim naked in a cold body of water.
• Get on a roof and do the entire choreographed dance to Step In Time from Mary Poppins.
Instead of doing these things I just came home, had a nice glass of bourbon and watched a few episodes of Golden Girls. CAUSE THAT'S HOW BLOGGERS ROLL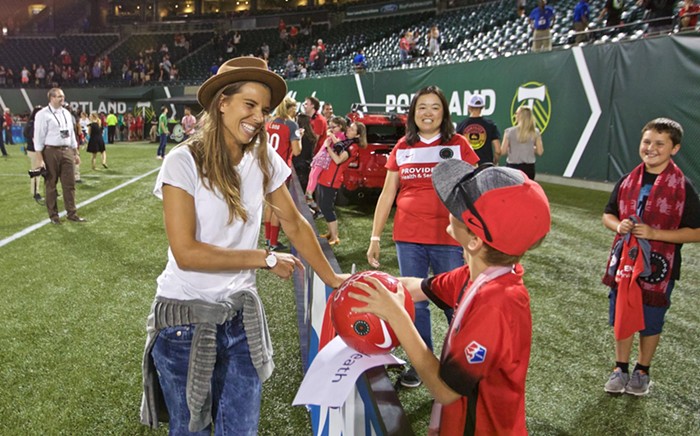 The Thorns are still lodged in second place in the overall standings. This looks great for playoff possibilities, but there are some tough games ahead. Thorns play in Seattle on Saturday and the Reign hate to lose at home. Huh—turns out the THORNS HATE TO LOSE TO SEATTLE.
You can watch the match here. There are only two more opportunities to see a regular season game in Portland. If you have not been to a match, you really need to give your heart and head a treat and surround yourself with a rowdy loving fanbase. BECOME ONE OF US! (And follow me on twitter @erinjeanius)