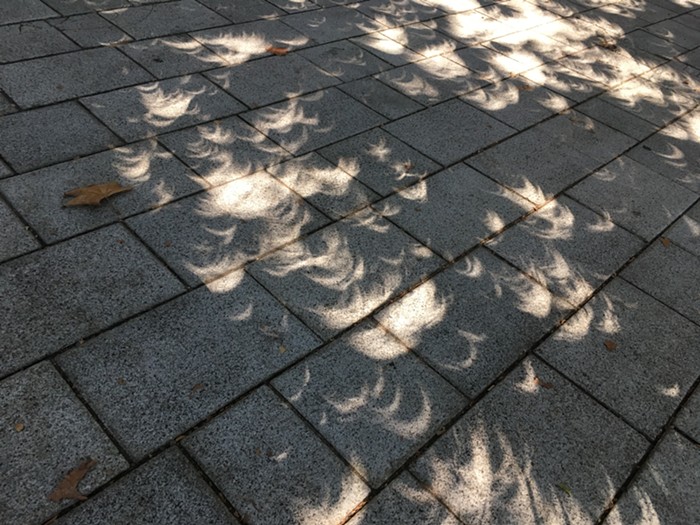 We'll totally
move on from the eclipse—which was damned impressive even in
Portland's meager 99.4 percent
zone—after reveling a bit more in Donald Trump
staring directly at it.
hahaha funny pic of Trump staring at the eclipse anyway he defended Nazis last week pic.twitter.com/1H4jbgRVIL
— The Daily Show (@TheDailyShow) August 21, 2017
(More Trump-v-science news: His pick to be chief scientist for the Department of Agriculture believes homosexuality is a choice on par with pedophilia.)
For my money, the coolest eclipse shots/videos were those taken from a charter flight that departed PDX yesterday morning specifically to view these immutable astrological proceedings from on high.
Also: Oregon finally saw some of that eclipse traffic.
Everyone's talking about Afghanistan, after a speech yesterday in which Trump used a lot of over-the-top rhetoric to tout a new strategy—including an untold number of new US troops committed to the country—without actually saying much about how it will work or how success will be measured. Remember that Trump vowed to get us out of Afghanistan (as did President Obama).
Some folks in Afghanistan seem to like the plan, anyway.
Meet the Houston man who got busted trying to blow up a confederate statue over the weekend.
Trump and VP Mike Pence will be in Arizona today, holding a rally even as Trump's popularity in the state isn't all that clear-cut.
A number of bodies of US sailors have been recovered, after Monday's collision between a Navy destroyer and an oil tanker near Singapore.

So Louise Linton, an actress who married the US Treasury Secretary, seems cool.