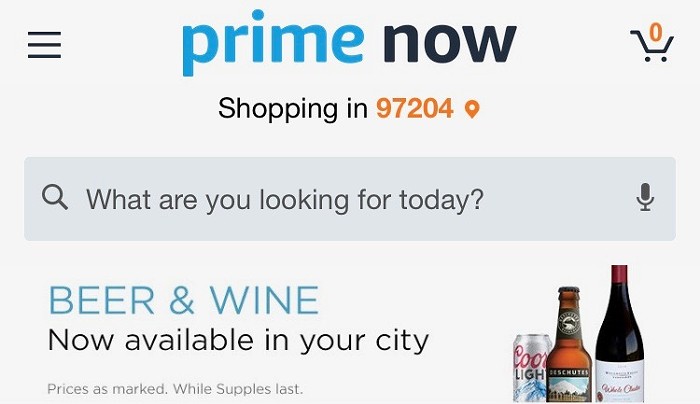 Finally, some booze news you can use.
Amazon's Prime Now service has added delivery of beer, wine, and cider to Portland Amazon Prime customers
. The Seattle-based e-commerce site announced on Wednesday that it would be delivering alcoholic goods (no hard stuff, yet) to
shut-ins
customers in the Portland area, and a quick look shows that 360 beer, wine, and cider options are currently available. Most of them are mass-market, big-name products, but there are some locally made choices, too.
The selections are numerous, but really aren't any different from what you'd find at your typical grocery store, and the prices are in line with that, too. A 24-can case of Pabst Blue Ribbon goes for $16.99, while a six-pack of Fort George's The Optimist goes for $8.99. The wines are typically on the cheaper, mass produced side, with the most affordable options being the white zinfandels made by Beringer and Sutter Home, both priced at $4.49 per 750 ml bottle. On the opposite end of things, you can also splurge on a bottle of Dom Perignon for $160.99.
Wine drinkers can choose from, among many others, Erath, Chateau Ste. Michelle, Black Box, Hogue, Columbia Crest, Barefoot, and more. Oregon beers include Deschutes, Rogue, Full Sail, 10 Barrel, Ninkasi, Hopworks, Bridgeport, Fort George, Breakside, Widmer, Pelican, Hop Valley, Ecliptic, Worthy, Crux Fermentation, Oakshire, and others.
Naturally, a valid ID is required—which they'll check upon delivery. As with other Prime Now services, a minimum order of $30.00 is required. Delivery within one hour costs $7.99, and another accelerated option costs $4.99. But if you're willing to wait two hours or so, delivery is free.
The Prime Now service is available from 8 am to 10 pm every day, so this won't do you any good if your spontaneous late-night rager suddenly runs out of hooch. No word yet if Amazon is working on a service to come by and collect your empties.