First things first: If you're one of the few who hasn't read this week's excellent piece offering a window into the experiences of Portland people of color, that's job number one today.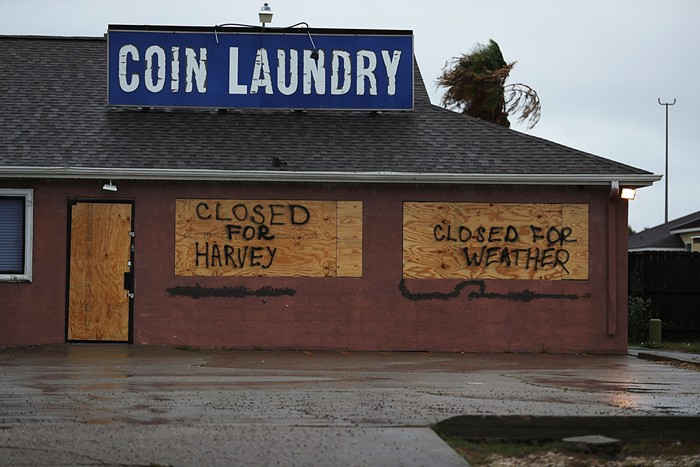 A Big Hurricane is coming for Texas
.
Harvey
could have triple-digit wind speeds when it
makes landfall tomorrow morning
, and could dump three feet of rain.
A police oversight bonanza: In an unexpectedly swift move yesterday, Portland City Council passed rules that ensure cops are interviewed promptly after shooting someone (against the wishes of the District Attorney), and created a new citizen oversight board that will watch the police bureau's ongoing reform efforts. Here's your rundown.
It's San Francisco's turn: Joey Gibson's Patriot Prayer is bringing its right-wing shitshow to the Bay Area, where it'll find plenty of opposition to bait into public fist fights.
Some local cops are SO mad after Sheriff Mike Reese made the call to remove a "Thin Blue Line" flag—a modified US flag that's mostly black and white, with a single blue stripe meant to represent fallen officers—from a break room. The move came after a county commissioner, we're not sure who, raised concerns. Reese says he's talking to his deputies about where the flag might best be displayed, but law enforcement types are losing their shit on social media.
Cylvia Hayes—remember Cylvia Hayes?—is speaking out about what went wrong in the days before she was toppled from her perch as the state's first lady amid questions about influence-peddling. The years of deep reflection since have led her to one pretty clear conclusion: She should have gotten better PR people.
The Wapato Jail—remember the expensive, never-used Wapato Jail?—is still up for sale.
Donald Trump's new chief of staff, John Kelly, is instituting strict rules meant to exert some quality control on the information that makes it to Trump's desk, the NYT reports. "That includes news articles, according to West Wing officials who described the memos' content — of particular importance, given the propensity for some of Mr. Trump's staff to slip him news accounts from dubious sources that shape his thinking or prompt him to cite unreliable or inaccurate information."
Everything is still terrible, of course. Here we have a report that Trump might be close to killing the Deferred Action for Childhood Arrivals (DACA) program, throwing the lives of some 750,000 immigrants—people brought to the country as children—into confusion and panic.
The Oregon Department of Justice isn't allowed to fire an investigator who targeted one of the department's own attorneys (its chief civil rights attorney, in fact) for using a #BlackLivesMatter hashtag, an arbitrator has found.
Gonna be hot this weekend, Portland. Get out and ride that wily bike you've been neglecting. The newly finished 20s Bikeway might be a good place to start.