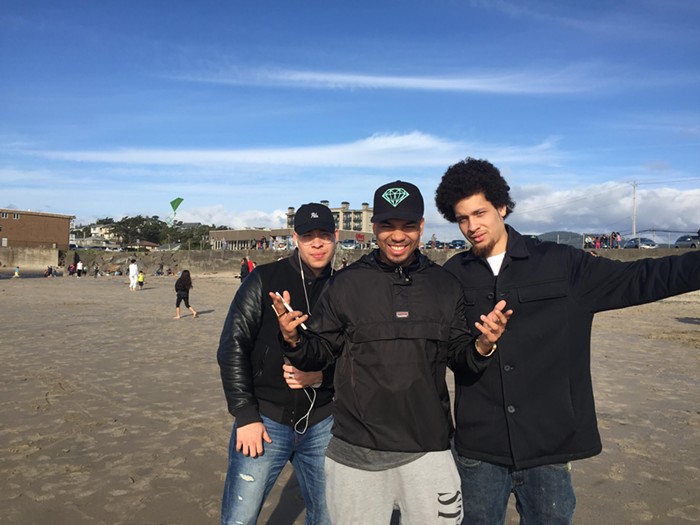 In the age of internet fundraising, it's no longer unheard for people to take to GoFundMe or Indiegogo to raise money to cover their food cart or restaurant startup costs.
But not Carmen Blanchard. She's taking her cause and concept straight to the people.
Carmen wants to open Afrodaddy's Jazz Club, a music venue, restaurant and bar that she plans on operating with her three millennial sons, Tyson, Kwame, and Stephen on the formerly controversial lot on the corner of Alberta and Martin Luther King Jr Blvd.
That's why she's in promotion mode for "Stolen Moments in PDX Jazz," an five-hour catered fundraiser slated for Sunday, October 1 from noon to 5 pm at Curious Comedy Theater at 5225 NE MLK.
"The fundraiser is to show my SBA Community Advantage lender that I have the ability to raise and generate working capital," Blanchard says. "This will show both my lender and Prosper Portland that Afrodaddy's Jazz Club is a great investment for the jazz and the interstate urban renewal community." 
The fundraiser will feature the heavy hitters in Portland Jazz (she's still negotiating their bookings) as well as the city's best millennial music acts.
"Portland's millennial performers are hot," Blanchard says, "and will get the opportunity to be exposed to some movers and shakers in the local jazz scene."
Blanchard continues, "In jazz, seasoned jazz musicians commonly snub open jams. Some feel they get to a status of 'too good' to play with rookies. I'd like my event to drop that thinking and judgement shit for the night so we can give the attendees some unique and 'Stolen Moments in PDX Jazz!'" 
Proceeds from the events will go to the nonprofit MESO, which gives small business technical support to minorities, and of which Blanchard is a graduate. "I'd like to also give a portion to Mel Brown's Jazz Camp Scholarship Fund," she says.
Blanchard says she's still in the market for sponsors, but that she's already received support from the Jazz Society of Oregon, the Cathedral Park Jazz Festival, JazzScene Magazine, the Albina Jazz Festival, the Montavilla Jazz Festival, the Vanport Jazz Festival, Royalty Spirits (owner of Miru Vodka & Rex Whiskey), and the music magazine Vortex.
Tickets will be $35-45 (sliding scale).
As for her vision for Afrodaddy's, Blanchard says it's really quite simple.
"I want to provide people of color a place to call their own," says the self-described ex-soccer mom and jazz lover who, for the last decade, has worked with young male youth of color who've been locked up under Oregon's controversial mandatory sentencing law. "I want to give all those bus drivers, teachers, nurses and all working class people of color who were born, raised, and educated in—and who raised their families in—the 97211, 97212, 97217, and 97227 zip codes a place that reflects their values and hard work."
She says she wants to blend jazz with hip-hop, and to bring together traditional, old-school players and their millennial peers. And to give her a hand, she's relying on the help of her millennial sons.
"It's time that the jazz patron meet the sneakerhead!" Blanchard goes on. "I'm very confident in the talent, and I'm compelled to breed and nurture an avant-garde jazz sound needed in our nightlife scene. Major players like PDX Jazz and the Jazz Society of Oregon have a big influence on the direction of jazz in town, and are successful at bringing legends of free-form to Portland, but do not actively support the potential in their midst. I'd like to change that with new ground and sound."
Should the fundraiser convince the community to support Afrodaddy's, it will open this year or next featuring a nightly roster of jazz, blues, and funk, followed by a couple of hours of jazz-infused hip-hop. Ultimately, Blanchard says, Afrodaddy's will provide an environment for Portland's jazz heavies "to retell stories of the shipyards, Vanport, and Vancouver and Williams Avenue times," with younger people "hungry to take Portland's jazz into the future." Until then, musicians looking for a new place to call home can reach out to Blanchard for booking inquiries by writing to her here.