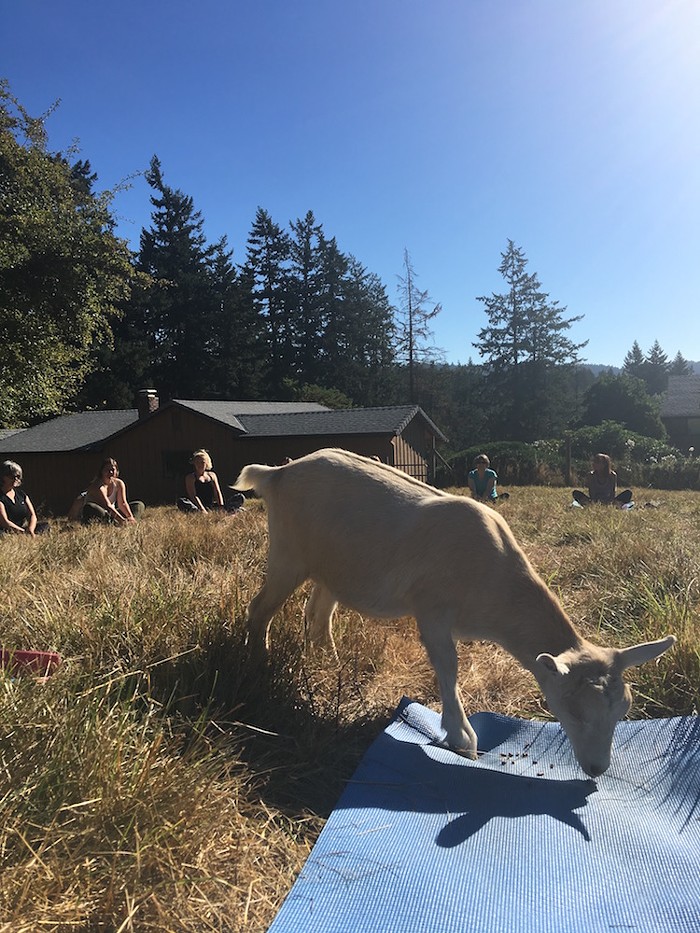 This week in The Most Portland Shit Ever, I tried goat yoga at a local family farm. "What the hell is goat yoga?" you might be asking. It's a fad that started in 2016 in which goats participate in yoga by walking through the class, sitting and/or standing near or on its participants, and making funny goat sounds to the delight of everyone involved. A quick Google Image search of "goat yoga" should be enough to convince you that this practice is guaranteed to make you smile. So when an invitation to try goat yoga was forwarded to my
Portland Mercury
inbox, I simply couldn't pass it up. And when I told my coworker CD that there were mimosas involved, she too was sold on getting up at 8 am on a Saturday to try this apparently-awesome goat yoga. (Note: Big Heart Farm also offers a brunch option after class, and for the evening class they serve wine.)
While some goat yoga providers are more established (like the wildly popular and aptly named Goat Yoga in Albany), others are just getting their yoga program started. Located at the edge of Northwest Portland on Germantown Road is Big Heart Farm, "a small family with a big love of animals." And oh my god do they have a lot of animals! After seven-year-old Cordelia let us in the gate, CD and I parked behind the house and then were greeted by three very large, very friendly dogs. As we came around the house I saw a couple of ducks, some chickens, a very active orange cat, and finally, a pen of goats.
We arranged our mats in a large circle on the uneven field. JJ Pursell, the lovely matriarch of Big Heart Farm, came out and told us a little about what to expect from the goats. "Their mouths are how they feel," she explained. "So if they put their mouths on you they're just trying to feel you." She also told us this was her goats' first time doing a yoga class, so she would come around and put handfuls of feed and hay on our mats to encourage them to check us all out.
After a few more minutes it was time to get started. Due to the unevenness of the ground, our yoga instructor told us we'd be mostly staying low and taking it easy. It wasn't the greatest or most challenging yoga session ever, but I did immediately notice how nice it was to stretch and be mindful of my breathing in the open air and Saturday morning sun. As I laid down in Shavasana, I could hear JJ corralling the goats—four kids and two mothers—behind me. More specifically, I could hear the goats bleating repeatedly, and this was the reason I could not stop giggling throughout the entirety of class.
A couple of the little kids (baby goats are called kids) were being a little shy, so they hid under their playground for much of the class, but the others did come around to our mats, eat the feed, nudge my feet, and start chewing on CD's anklet. No one in the class got that picture-perfect moment where an adorable goat stands on top of you while holding a plank or bridge pose, but I chalked it up to it being their first time. After a couple more classes I'd expect they get the hang of it and get more physically involved. And I soon discovered that it's definitely worth a return visit. After class we all got a chance to hold the goats and take pictures, and then we made friends and good conversation with our classmates over mimosas, kombucha and sparkling water. The whole experience was an absolute DELIGHT. It also helps that JJ's newly renovated house, porch, yard and countryside view is all gorgeous. Who woulda thought you could find this much secluded serenity in Portland so close to its urban center? My one critique is that I'd like a more intensive class (with wayyyy more downward dogs), or at least a more level ground that allowed for more variation. Even though the goats didn't know how to do yoga yet, it did feel therapeutic to be in the presence of so many happy animals while I did it.

In addition to yoga, the farm also offers goat rentals for weddings and parties, or for people in need of brush clearing. JJ told me that she decided to take up the offer of trying goat yoga because she doesn't breed her goats for meat ("God no!") and she doesn't get much else out of them. Goat yoga is a way for her to make some money of the pets, since keeping them is an expense. She did tell me, however, that she milks her goats and even used it to make the feta cheese that was part of the brunch she was offering. So here's a perfectly ethical place to eat goat cheese where you know the animals are not just happy and safe from slaughter, they're straight-up pampered! I'll definitely be back for brunch and more mimosas, and hope that eventually one of the goats will recognize me and want to add some weight to my crow pose.