The latest death toll, as the extent of Harvey's mayhem is sussed out, is 46.
And there are plenty of hazards, though the storm has moved on. Officials are still bracing for possibly more explosions at a chemical plant outside of Houston, which the NYT reports " has been identified as one of the most hazardous in the state."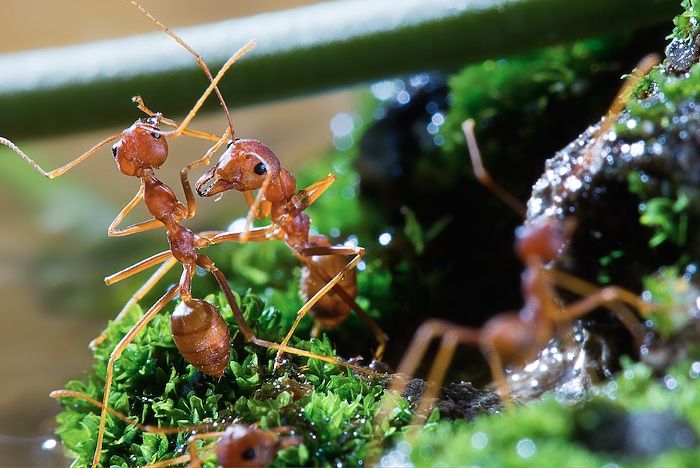 And DO NOT
forget the rafts of fire ants lying in wait—the writhing, nightmarish cherries on the tragedy unfolding down there. Something I learned today: Spraying them with dish soap diluted in water
can sink their weird little party
.
Here's what actual rescuers are up to. And here's what Donald Trump is up to (spoiler: Tweeting about Comey.) Meanwhile Congress is thinking of green-lighting a cool $6 billion to get FEMA through the end of this month (happy September, by the way).
Oh also! A bunch of dogs from San Antonio are flying in today. They're from a shelter that needed to make room for dogs displaced in Harvey.
Local disasters? Let me check....oh, yep! The state is still on fire. So on fire that the popular, week-long Cycle Oregon has canceled what was to be its 30th year.
So on fire that the Oregon Shakespeare Festival is axing performances because of smoke.
Just, you know, on fire.
You Don't Say: A Georgia police lieutenant who told a DUI suspect "we only shoot Black people" is being fired. Uuuuggghgghhh.
Oregon State University is going to hold community discussions about how to handle all the buildings it's named after racists over the years. And, man, it's got some doozies. From OPB: "The buildings are Avery Lodge, named after the co-founder of a pro-slavery newspaper; Arnold Dining Center, named after a Confederate Army soldier; Benton Hall, named after a white supremacist; and Gill Coliseum, named after a former OSU basketball coach who resisted racial integration of the men's basketball team."
The Oregon Health Authority has finally cleared a backlog of more than 150,000 medicaid recipients it hadn't made sure were still eligible. Roughly half of them weren't. The OHA, in constant tumult these days, says it's going to do better.
The CDC released a report on overdose deaths in the country's ongoing opioid crisis. Things are far worse out east than they are here.
Lastly: I estimate that you will begin sweating at 2 pm today and not stop for a full week.