Good morning, Portland. Hopefully one day it won't seem like a post-apocalyptic hellhole outside.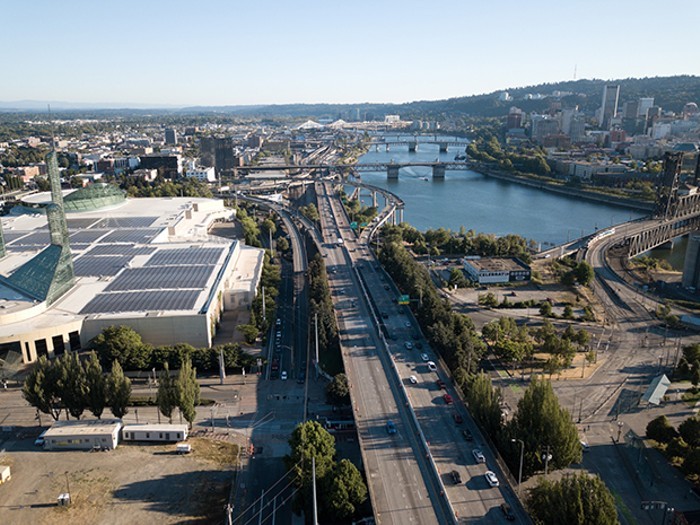 First up is this week's feature (out in print as of yesterday) by Dirk VanderHart. Read it!

Can activists in Portland kill another highway megaproject? https://t.co/kMfen3rssO

— Portland Mercury (@portlandmercury) September 6, 2017
Also out in print as of yesterday is my story about how the county's campaign finance restrictions are now in place, despite a judge not yet ruling if it's constitutional.
The Eagle Creek Fire in the Columbia River Gorge is 5 percent contained, authorities say, which is better than zero percent.

Eagle Creek fire: 5 percent contained https://t.co/uzWnZk1lHC pic.twitter.com/xs1EqszNmz

— The Oregonian (@Oregonian) September 7, 2017
"Attorneys with the Oregon Department of Justice filed a lawsuit against the Trump administration Wednesday over the president's decision to end the Deferred Action for Childhood Arrivals program," the Oregonian reports. "Filings submitted in federal court in New York City make Oregon one party among 15 other states and their attorneys general to jointly file the lawsuit, said Oregon Department of Justice spokeswoman Kristina Edmunson."
Multnomah County Auditor Steve March is nearing the end of his term-limited tenure. The Portland Tribune reports two candidates trying to replace him next year both work for him now.
The Tribune on the city's plan to subsidize housing in North and Northeast Portland for those pushed out by gentrification.
The Oregon Humane Society's disaster response team just returned from Houston, where they were helping pets in the midst of Hurricane Harvey, KPTV reports.
Nothing is good right now:

The prime minister of Antigua and Barbuda said 50% of Barbuda was homeless after Hurricane Irma https://t.co/pOhF0k5sDt

— The New York Times (@nytimes) September 7, 2017
Of course:

Facebook said that fake Russian accounts bought $100,000 in political ads focused on divisive social issues https://t.co/HvTxYenYhm

— The New York Times (@nytimes) September 7, 2017