It took a while, but Commissioner Chloe Eudaly's office finally found a way to pay a high-ranking aide the money it had promised: By giving him an entirely new job.
Sponsored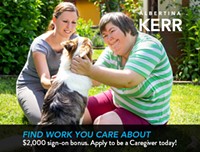 Become an Albertina Kerr Caregiver & help people experiencing intellectual and developmental disabilities.
Dave Austin—who joined Eudaly's office as Deputy Chief of Staff but in recent months helmed the troubled Office of Neighborhood Involvement (ONI)—took on a new role on Tuesday. In a bit of juggling that doesn't appear to have precedent, Austin will now serve as a public information manager for two bureaus controlled by Eudaly, a maneuver that allows him to receive higher pay than would normally be allowed, according to Marshall Runkel, Eudaly's chief of staff.
Under the city's current pay scale, the classification for Public Information Manager tops out at an annual salary of $105,851—more than the max $93,434 Austin could make as an aide in Eudaly's office, but less than he was making at Multnomah County as a communications director.
So Eudaly's office has gotten permission from the city's Bureau of Human Resources to do something unconventional. Under an arrangement that began earlier this week, Austin will spend much of his time running communications at the Bureau of Development Services (BDS), where he now has an office. But he'll also steer public information at ONI. And he'll still apparently offer assistance to Eudaly's office.
ONI and Eudaly's office will chip in a combined $19,000 on top of Austin's BDS salary, landing him $124,900 a year, according to Runkel.
"We're buying back some of that time," he says.
The result is a job that has little, if any, precedent in Portland's commission form of government, where control of bureaus can be re-dealt like playing cards at the whims of the mayor, and commissioners can wildly diverge on the messages they want to send. The city's bureaus often employ their own public information officers to respond to media requests, author press releases, and do other duties. Having a single person in charge of public outreach for two bureaus is unconventional (the Bureau of Human Resources hasn't responded to our inquiries about precedent).
But Austin, a former Oregonian reporter who arranged a central communications structure for the various departments of Multnomah County, argues it helps put out a strong message.
"I'm not shy about saying when I was at the county, our exposure was way better than the city's when it came to media stories, getting the word out," he said today. "Now I'm at the city. Why not take advantage of that expertise and experience?"
Both Runkel and Austin say the new role will be about more than talking to media. Austin laments the state of the websites for both bureaus that now employ him, and says they need to better explain to the public what they do.
Eudaly's office had long planned to put Austin to work running communications for its two bureaus—and pay him more in the bargain—but the arrangement it's arrived at is somewhat unexpected. As we reported in March, Runkel had initially hoped to tap an old budgetary strategy that was in vogue during his first tour through City Hall, as a staffer for former Commissioner Erik Sten.
Back then, it was common for commissioners to pay for personal aides by dipping into the budgets of bureaus they controlled. Former Mayor Charlie Hales put an end to that practice, though, meaning Eudaly's office needed to find a new arrangement.
Austin insists he wasn't clamoring for a higher salary, but says he took the job with the city with an understanding that Eudaly would try to meet his county paycheck (something Runkel confirms). He was brought onto the city's payroll making $93,434, but that pay shot up by 54 percent (to a rate of $143,811 a year) when he took over ONI as interim director in March. He crafted a shake-up of the bureau before handing it off to new full-time Director Suk Rhee.
Austin's new position will create questions in City Hall: Is he trying to form up another centralized communications office, as he did with the county? We asked, and Austin would only say: "I'm focused on these two bureaus. I'm gonna make damn sure that we improve the ability to let the public know the work we're doing and why it's important. If I can do it, then we'll be successful."