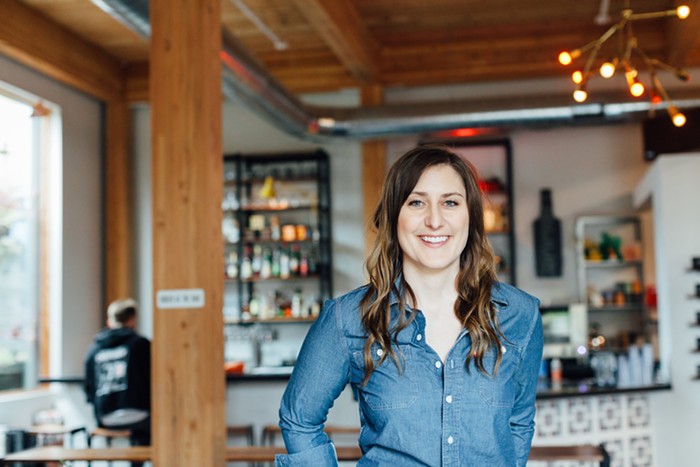 Karen Locke is pacing herself.
When I met with her to talk about her new book—High-Proof PDX: A Spirited Guide to Portland's Craft Distilling Scene—she was careful to take only a small sip in between her answers. In fact, by the time we paid the bill, she'd barely touched her drink at all.
That's because she has a lot to think—and drink—about this month. She has a book signing on Powell's this Sunday, September 10. The following Tuesday, her book officially goes on sale online. On September 23, she's getting married and on the 26th, she celebrates her 31st birthday.
And the whole crazy month kicks off tonight with a launch party at Bit House Saloon, complete with a book signing, specialty cocktails, and—because it's Bit House—an ice luge. It starts at 5 pm and lasts until 10.
So how does a first-time author from the Midwest become one of Portland's voices of authorities on all things spirits? By starting off waiting tables, of course.
Locke says she was working at a Thai restaurant outside of Viking Stadium in Minneapolis when the spot's main bartender quit with a no-call no-show. That meant she had to mix her own drinks. And mixing her own drinks from an outdated cocktail menu also meant improving them on the sly.
"I was secretly fixing drinks for people—fixing meaning, fixing the menu items—doctoring them up for people so that they weren't returning them," she says.
She'd soon realize that while she didn't really have a knack for serving or even bartending, she did know how to properly balance a drink.
After moving to Portland, she put her journalism degree and her cocktail know-how to work and found her niche as a freelancer documenting Portland's craft cocktail scene—which ultimately lead to her High-Proof PDX book deal.
Her guidebook, Locke explains, is split into two parts: "Tasting," in which she offers the short biographies of Oregon's distilleries and the people who run them, as well as tasting menus and tips for navigating your visits, and "The After-Party," in which she enumerates the city's best craft cocktail bars, offers tips for setting up your own home bar and offers even more tips from local bartenders who dish on their own personal hangover cures.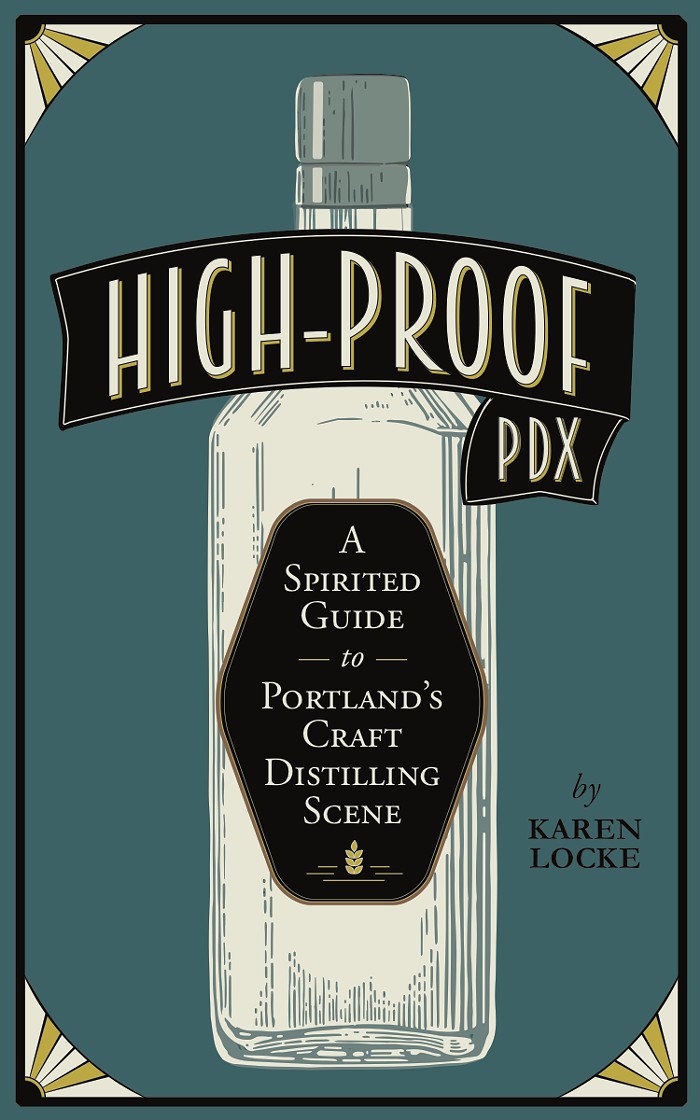 "I wanted it to be straightforward and easy to read," Locks says. "Maybe if you have a buzz you can still read it."
Complete with maps, Locke's guide to Portland's distilleries and tasting rooms is chockablock with advice on how to self-guide yourself through a tasting tour.
Her first tip: "Be prepared," she says. "It creeps up on you." For example, if you try 10 spirit samples, you're basically sipping five full shots. And if you're doing that on an empty stomach, you're likely going to pay for it the following morning.
Her other steps include bringing snacks (to make sure that booze isn't splashing down onto an empty space), arranging for transportation, going solo or in small groups, and remembering to always, always ask lots of questions.
"One, it makes it less awkward and two, you actually learn something," Locke says.
And bring cash. Regular eaters and drinkers know to tip their servers and bartenders on a night out, but they might not know that it's customary to tip the person who's been pouring you spirits samples while answering all your questions about what you're sipping over the last 30 minutes.
High-Proof PDX: A Spirited Guide to Portland's Craft Distilling Scene runs $12.99 a copy. By Tuesday, you can find it at Powell's, each and every one of Portland's spirits tasting rooms, at your usual online retail giants, or directly from the author, herself.