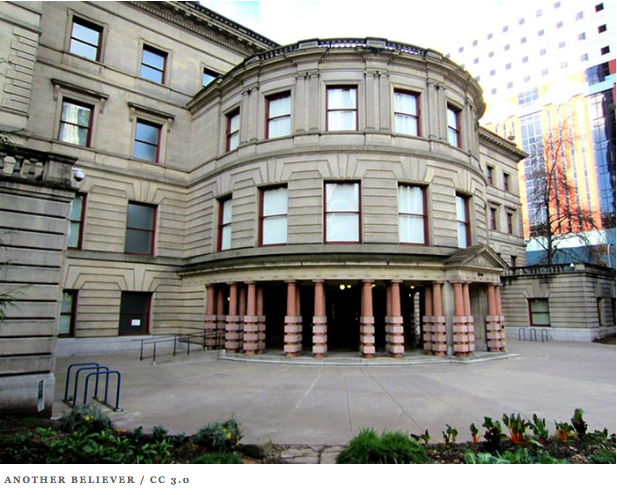 The axe finally fell at the city's Office of Neighborhood Involvement on Wednesday.
In a shake-up that had been expected for months, three managerial spots within the troubled bureau have been converted to lower-paying positions, sending two members of the ONI management team out the door in coming weeks. At the same time, two more high level employees have recently departed the bureau for new city positions, and ONI recently got a new full-time director, Suk Rhee.

"We're trying to take a more methodical approach to how to organize the work there," says Marshall Runkel, chief of staff to Commissioner Chloe Eudaly, who oversees the bureau. "That's what the re-organization is really all about."
The result is a sea change in the leadership of a many-pronged bureau that's seen plenty strife in the last year.
Last November, a city audit painted leadership of ONI as rudderless, and suggested the bureau had favored some neighborhoods over others when distributing grant money. The audit put a target on the back of Amalia Alarcon de Morris, a longtime ONI employee who'd been the bureau's director for more than a decade. Morris stepped down in March, under pressure from Eudaly's office.
But it wasn't enough to clear the air.
In April, news broke that ONI employees hadn't been turning in receipts for their purchases on city-owned credit cards, and that more than $120,000 in funds couldn't be accounted for. That led to threats from the city's Office of Management and Finance to suspend the credit cards of 34 ONI employees, according to the Oregonian. The bulk of unaccounted for employee expenses, once reported, were legit.
Still, the culture of the bureau was troubled, observers say. Eudaly appointed her then-deputy chief of staff, Dave Austin, to take over the bureau while a new director was found. Austin set into motion a series of changes announced by Rhee in a memo to employees [PDF] on Wednesday, in what she called a "an intentional redesign of ONI's structure to support closer working relationships between the Director role and program centers."
Under the redesign, three management positions have been downgraded to "coordinator" jobs, a distinction which limits the power people filling those positions will have without approval from Rhee. At the same time, cannabis policy within the bureau has been given a more prominent role. Here's a list of the reclassifications:
For two ONI managers, Theresa Marchetti and Brian Hoop, the changes meant reapplying for jobs that had less authority and lower pay. Both Marchetti and Hoop have instead decided to leave the city in coming weeks, according to Rhee's memo.
Marchetti oversaw livability programs, like liquor licensing, graffiti abatement, noise control, and cannabis regulation. Hoop had sway over a host of neighborhood-focused programs.
Two other senior ONI staff departed prior to the restructuring: former Crime Prevention Manager Stephanie Reynolds and Operations Manager Amy Archer-Masters, who took a job at Portland Parks and Recreation. Reynold's position (which is now a coordinator position rather than manager) has been filled. Archer-Masters' has not.
Rhee wrote in her memo to employees that she's hoping to fill the vacancies left by Marchetti, Hoop, and Archer-Masters "sooner rather than later so that we can provide stability to our bureau operations and culture, and move forward in key strategic planning and budgeting functions."
"I know that responses to change can range between welcome and exhilarating to exhausting and unsettling, and everything in-between," the memo concluded. "As we move forward, I share my expectation and optimism that each of you bring your best selves to the work—I have seen it and experienced it already."