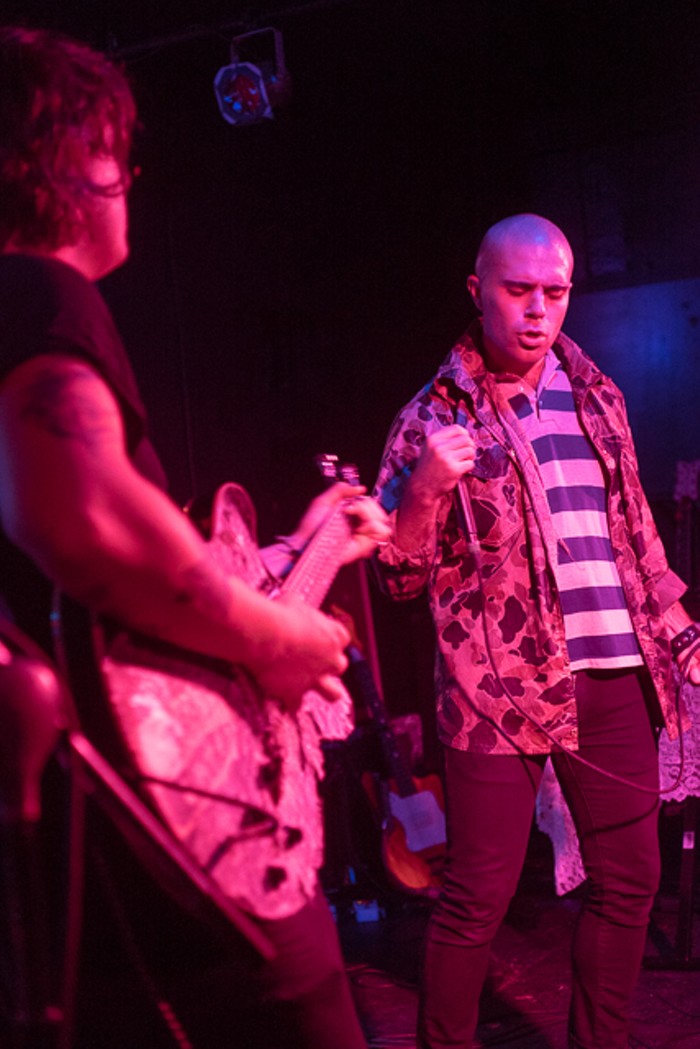 Human Leather is a great band name. Just hearing those two words together makes my skin crawl, which is probably the point—my skin does not want to become human leather.
Salt Lake City musicians Adam Klopp and Chaz Costello make dark electro-pop under the Human Leather moniker. In May the duo released their debut LP, Lazy Karaoke, on Cercle Social Records. It's already one of my favorite records of 2017. They're also members of the rising SLC groups Sculpture Club and Choir Boy (another great band name inspired by Klopp's youth singing in Mormon church choirs).
Last night at the Tonic Lounge, Human Leather opened for English post-punk band the Chameleons Vox along with Draa and Soft Kill. It was one of the best shows I've been to this year (I write while wearing my new Human Leather T-shirt).
I get why they named their album Lazy Karaoke: Costello plays guitar and Klopp sings over looped drum machine/synth recordings. And though that could make for an underwhelming live set—since they're barely playing instruments—it was actually quite the opposite. Klopp and Costello were magnetic, blazing through standout tracks like "Sense of Decay" and "Ugly Sister" (singing along to the lyric "Everything is fucking scary" was very cathartic).
Klopp's dance moves were great, but his voice is unreal—the only comparable voice I can think of belongs to Mike Hadreas of Perfume Genius. But one of the most gripping moments of Human Leather's set was Costello's emotional performance of "The Family," which they told Noisey is a song about becoming estranged from your family.
Do yourself a favor and listen to Human Leather, especially if you're a fan of 1980s goth-pop.