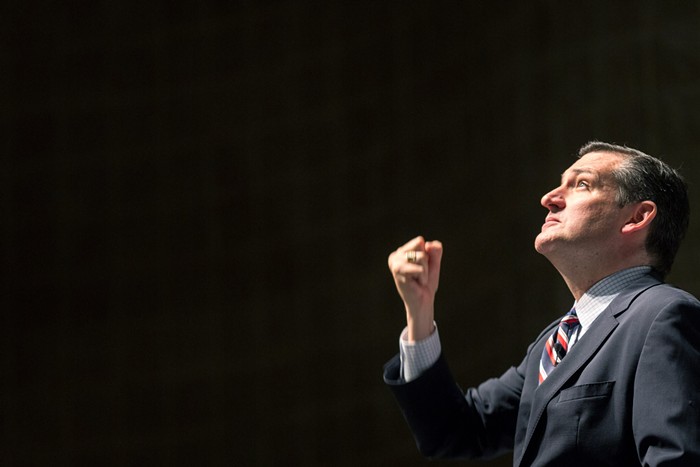 TED CRUZ LOVES TWITTER PORN
: Or "likes" it at least. His Twitter account was observed
giving the old thumbs
up to a porn clip yesterday, and from all anyone can tell, this is
the exact thing Twitter was designed to ultimately accomplish
. Those folks play the long game. Still waiting for Cruz to acknowledge this. Excuse should be delicious.
Irma pandemonium continued in Florida, Georgia, and South Caroline on Monday, causing widespread damage and leaving millions without power. "The Defense Department said that damage to the [Florida] Keys was so extensive that it might be necessary to evacuate the 10,000 residents who rode out the storm on the islands."
And terrible EPA Chief Scott Pruitt's going full NRA in response to concerns that global warming is making hurricanes more severe, saying it's insensitive to discuss climate change while storms are playing out? Actual scientists, like the rest of us, are incredulous.
Commissioner Nick Fish is still in. The Tribune reports Fish has decided to continue to pursue re-election next year even as he battles stomach cancer. "I won't be the first person who manages an illness or a disability and runs for office," the paper says Fish wrote to supporters.
Officials in the gorge are acknowledging something we suggested last week: That a bunch of popular hiking trails are going to be closed into next year as a result of the still-burning Eagle Creek fire.
The fire is one of almost 40 burning throughout the country, and officials told gorge residents last night that while the fire isn't spreading at the breathtaking rate it did last week, it's still unclear when some evacuees will be able to return home. I-84 is still closed.
Secretary of State Dennis Richardson wound up supplying an Oregon voter list to Donald Trump's voter fraud commission. It's the same list that's available to anyone for $500, so hardly a scandal.
Some ignorant dipshit sprayed "ISIS" on a Portland mosque this weekend.
A novel new law in Washington State requires gun sellers to inform authorities if someone tries to purchase a gun but fails the compulsory background check. It'll help domestic abuse victims and others who have restraining orders learn if their abuser is looking to buy a gun, but it won't necessarily do much more.
Another day, another damn DB Cooper theory. This time, the famed skyjacker was an aggrieved southern father looking to embarrass the FBI?