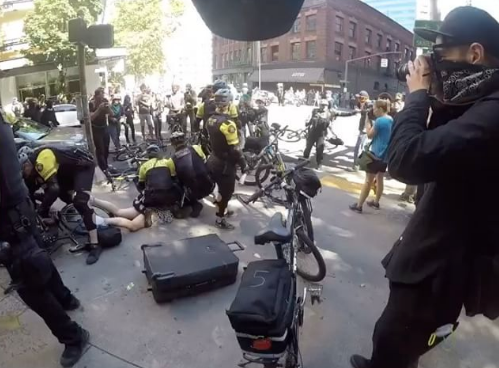 It was a volatile Sunday in Portland and Vancouver. From our reporter Doug Brown who covered this weekend's protests:

Local demonstrations caught national heat for a day that included both a Trump supporter nearly plowing through protesters with his American and Confederate flag-adorned pickup truck, and the president's large adult son taking to Twitter to rail against Portland antifascists, whom he accused of starting a riot.
Another story has emerged in the days following the protests. There are several video accounts of a Portland Police officer who appears to throw a distraction grenade at an unmasked person with a camera. Here's the original footage:
Cop threw flash at me. He aimed for unmasked independent press. No warning. Deliberate. Hit camera/chest. Reckless and dangerous. Fire him. pic.twitter.com/jIWNg4Njz7
— Village to Village (@v2vfilm) September 12, 2017
The Portland Police Bureau is now reviewing the incident, OPB reports. Our reporter Doug Brown shot this video:
If you want to know more, Doug will be on KATU at 5 pm and 6 pm to talk about what happened. Watch the full segment here.
Sponsored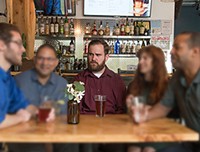 Adults aged 18-35 with good hearing will be paid for their time. Located at the Portland VA Medical Center