Sponsored
Sketch comedy troupes from all over N. America descend on The Siren Theater for 3 glorious nights.
The Multnomah County District Attorney's office will phase out using secretive grand juries in most felony cases, according to a letter District Attorney Rod Underhill sent to Multnomah County Circuit Court Judge Nan Waller this summer. The prosecutor's office will instead rely on preliminary hearings in open court, where a judge will determine if felony cases can go forward.
The impactful shift in how prosecutors handle felonies was confirmed by the district attorney's office, defense attorneys, and Judge Waller.
The move comes in the wake of the state legislature passing Senate Bill 505, which requires grand jury proceedings to be required and disclosed to defendants facing charges.
The grand jury system is a secretive process where prosecutors behind closed doors present evidence against a suspect to seven civilians, who decide whether there's enough probable cause to indict the person with a felony. Until Senate Bill 505 passed earlier this year, nobody, not even defense attorneys, could know what happened in the grand jury.
That will soon be scrapped here, in most cases, in favor of a more public procedure. Starting in November, county prosecutors will send felony drug cases (manufacture, delivery, possession) to a preliminary hearing instead of a grand jury. Preliminary hearings are held in open court, where prosecutors and defense attorneys present their side to a judge, who then rules if there's enough evidence to go forward.
More types of felony cases will start going through preliminary hearings later.
By 2018, Underhill's letter to Waller says, it's expected a vast majority of felony cases—an estimated 81 to 84 percent of them—will go through a preliminary hearing. In 2015, there were 3175 felony cases presented to the grand jury, according to Underhill's letter. Last year: 3285. But, in 2018, the prosecutor's office expects to send only 600-700 of them to a grand jury. Most of the cases still going to a grand jury next year will be felony "person" crimes, with a human victim.
Multnomah County previously used preliminary hearings for felony cases, but not since the early 1980s when it shifted to grand juries.
Judge Waller confirmed to the Mercury that the phase-out of grand juries and phase-in of preliminary hearings will begin in November. She says at the beginning there will be one judge handling preliminary hearings every day for a half a day.
Nobody really knows the specific impact this move will have on those working in the criminal justice. It will require more time of judges and, especially, the already-overworked and underpaid public defenders (defense attorneys weren't allowed to be at grand jury proceedings but will need to be at preliminary hearings).
The gradual phase in preliminary hearings, Waller says, will allow everybody to analyze how resources will need to be allocated later on when that's the predominant first step in felony cases.
We'll be expanding this story in next week's print issue. If you are a public defender or are otherwise involved in the justice system and want to express your opinion on this, send an email to doug@portlandmercury.com.
Sponsored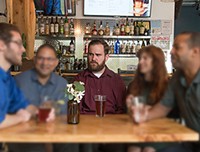 Adults aged 18-35 with good hearing will be paid for their time. Located at the Portland VA Medical Center