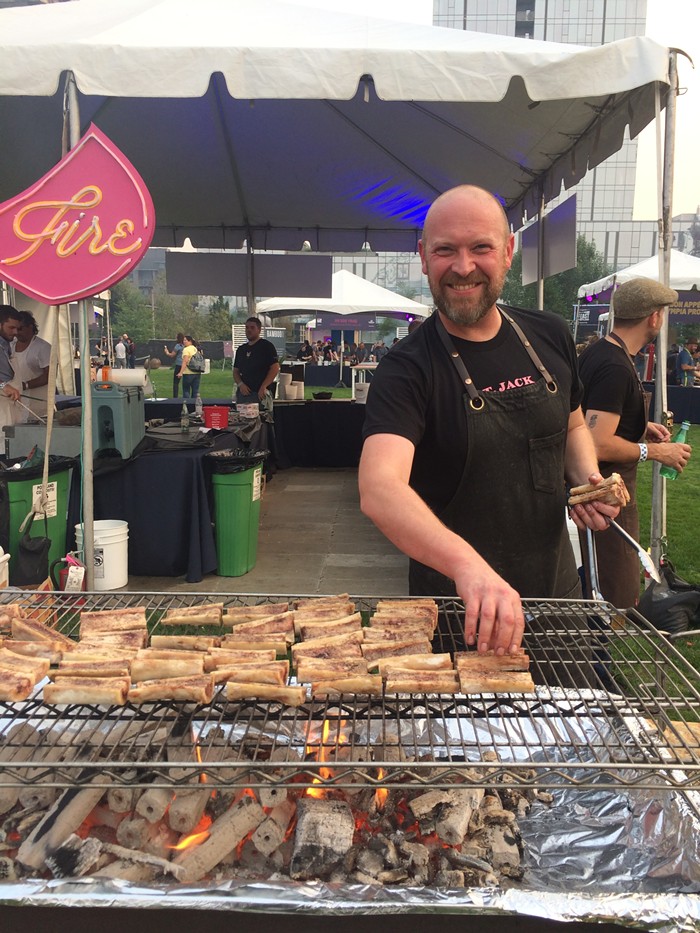 Another Feast has come and gone, but we'd be remiss not to do a recap chat where we discuss the strengths, weaknesses, and burps of Portland's fave food fest. Providing the summary is Mercury food writers MJ Skegg and Jackie Varriano.—eds.
Jackie: So... Feast 2017. Initial reaction post-fest?
Martin: Apart from the usual wanting to eat lettuce for a week, I thought overall it was a good year.
J: Yeah, I drove home and stopped at the grocery store on my way. Only bought vegetables. I do have to say I left last year's Feast a little burnt out, but I think I've come back around on it. I really felt new energy in the Sandwich Invitational this year and had a blast at Smoked. Aso I'm kind of excited there might be a need to overhaul Night Market next year due to development. I'd love to see what else they'll come up with.
M: Agreed on Sandwich. Thought the quality and invention was better this year. Smoked is always my favorite, and it helped it didn't rain this year too! Gregory Gordet nailed it.
J: I think it's funny how the ones I loved aren't even on the radar. Really shows there's something for everyone. I feel like I could eat that butter-soaked corn from Bollywood every day of my life. Because butter. Also, we both went to dinners this year, which I think hasn't always been open to media in the past. What did you think of your dinner—it was at Jackrabbit, correct?
M: Correct. I enjoyed it. I was disappointed with beer pairings though, and the main course totally left me cold. I can't even explain it, apart from a lump of meat in pastry. Yours was better by the sound of it.
J: Yeah, I went to Whiskey Pig and in my book Carlo Lamagna can do no wrong. Toward the end of the dinner he talked about making Filipino food more of a part of the conversation and I'm all for it. I need more pancit and lumpia in my life for sure. I also heard a lot of positive feedback at the dinner, so I feel like people thought they got their money's worth, for whatever that's worth. And I have to say it was a little nuts for you that you had three events at Jackrabbit over two days. That's a lot of ham ass jokes to handle.
M: I like Carlo—I hope he gets his Filipino restaurant to happen. I did do a lot of Jackrabbit. I know Andrea (Damewood, Merc food critic) isn't a huge fan of the food there. In general I found it a mixed bag, but the public events were packed, so its popular.You can explain the ham ass joke....
J: The choux and strawberries we had at the media lunch were an absolute dream, but I think it was at that lunch there seemed to be this low-key misogynistic vibe of "hee-hee Portland has a lot of strip clubs so we had to have a stripper pole to pay homage to all the working girls, hee-hee," cut to ham ass on a pole, cut to "we like to have fun here." Maybe I'm just over bro-chef culture? On the other hand, that pierogi pop up at Smokehouse Tavern was freakin' amazing. I hope BJ ends up doing that more.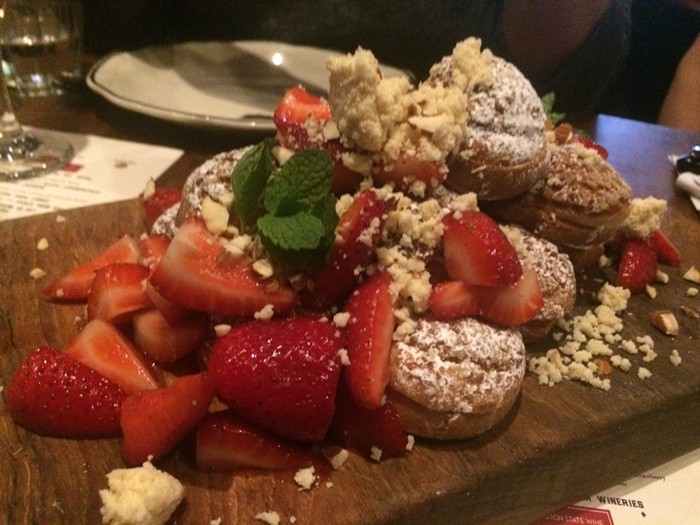 M: Second that Polish-themed brunch at Smokehouse. Hope they make that a thing. I don't have any evidence to back this up, but felt the drink options were generally better at most events. Though one of the reasons I was annoyed by the beer pairings at that dinner was that it was a $150 dinner, which seemed out of wack to me.
J: True, especially when mine was paired with craft spirits and might've been the same price. But I'm in agreement with you on the drink selections. The only spot that was really missing for me was an appearance by Rachel's Ginger Beer. Anyway, I think overall, this year's Feast had way more high notes than lows. It really was a good variety of everything a food lover could want. Next year though, let's kill Night Market, if only to see what fabulous monster will rise instead.
M: Night Market is my least favorite so great if that gets revamped. One thing I did notice was that the longest lines were always for the Portland chefs. Perhaps that's because Portlanders are creatures of habit or just didn't realize who those out-of-town chefs were.
J: I think the dark signs at Smoked didn't necessarily help matters. Once it got a bit darker outside it was very difficult to see who was at the booth and maybe it was easy to go with a familiar face?
M: Maybe... anyways, I'm looking forward to next year. I'd still really like them to go international with the chefs, though.
J: Agreed, I think that could add a very interesting level. Anyone on your wish list?
M: Yeah, tons! But a couple of Swedish chefs who I'd love to see here are Magnus Nilsson and Björn Frantzén.
J: Well, fingers crossed someone from the feast team reads this and does something about it
M: Yeah, I'll let them know. Okay, see you next year!
J: Sounds great!