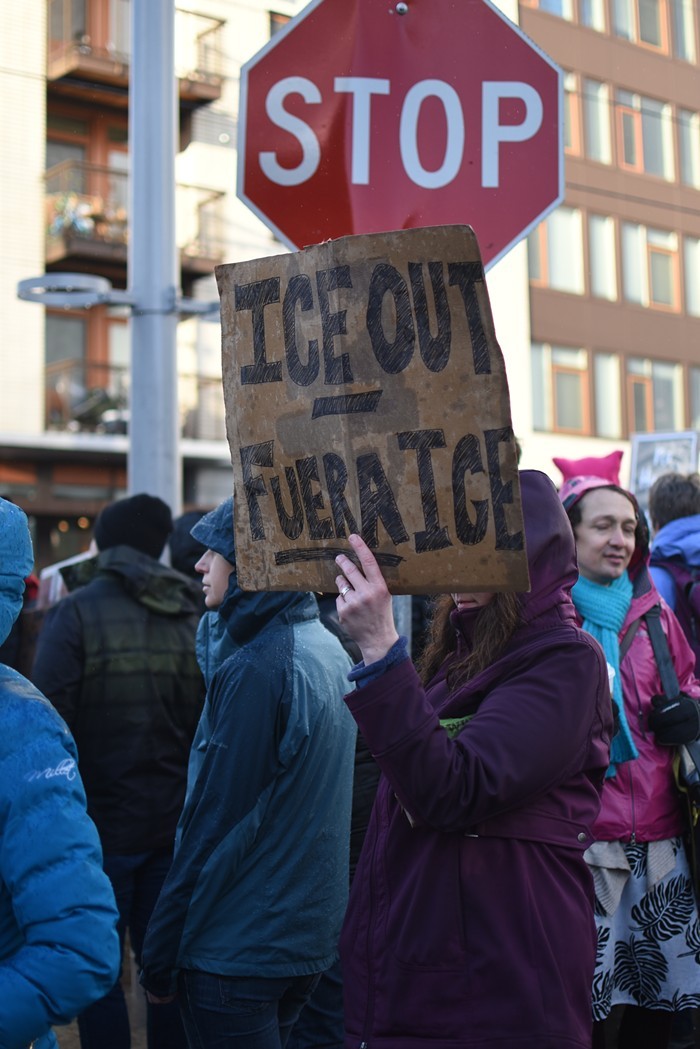 Sponsored
We create recommendations to improve police practices. Seeking Black, Indigenous, LGBTQIA+, and those living with mental illness and/or houselessness.
***Update***
ICE is bad at counting.
The Oregonian is reporting today
that four people—not 33—were arrested in Portland:
Federal immigration officials on Friday retracted the number of arrests the agency claimed officers made in Portland during a nationwide operation targeting sanctuary cities.

More than 15 hours after U.S. Immigration and Customs Enforcement issued a news release saying that it netted 33 people in Portland, an agency spokeswoman told The Oregonian/ OregonLive that the actual number was four.
The O reports ICE arrested four people in Portland, one person in Gresham, one person in Salem, and one person in Clackamas County. ICE updated its press release online, where it says 33 people were arrested in Seattle. The paper says that 33 count comes from the total arrested in the area covered by its northwest regional field office (Alaska, Oregon, Washington), and the other 26 arrests were in Washington.
***Original story: 9/28/2017, 3:59 pm***
U.S. Immigration and Customs Enforcement (ICE) agents arrested 33 people in Portland, and 498 people nationally, during a four day sweep of "sanctuary cities" across the country, giving a big "fuck you" to local jurisdictions who don't comply with the cruel federal agency's request to turn over undocumented people they arrest to the feds.
The four day sweep—dubbed by the agency as "Operation Safe City"—wrapped up on Wednesday. It began just days after Attorney General Jeff Sessions came to Portland to inaccurately deliver "fear-mongering tidings of doom for Portland's immigrant-protecting officials."
In a news release today, ICE boasted that they specifically targeted sanctuary cities like Portland.
"Sanctuary jurisdictions that do not honor detainers or allow us access to jails and prisons are shielding criminal aliens from immigration enforcement and creating a magnet for illegal immigration," ICE Acting Director Tom Homan said in the release. "As a result, ICE is forced to dedicate more resources to conduct at-large arrests in these communities."
Trump's promise to punish sanctuary cities is in full swing. ICE is coming after Portland for standing up for our immigrant population. https://t.co/WHkubX3dKf
— Mat dos Santos (@MatPDX) September 28, 2017
Here's how many people they say they got:
•Philadelphia - 107
•Los Angeles - 101
•Denver - 63
•State of Massachusetts - 50
•New York - 45
•Portland - 33
•Cook County, IL (Chicago) - 30
•Santa Clara County, CA - 27
•Baltimore - 28
•Washington DC - 14
Earlier this month, ICE agents tried to detain an American citizen outside the Washington County courthouse.