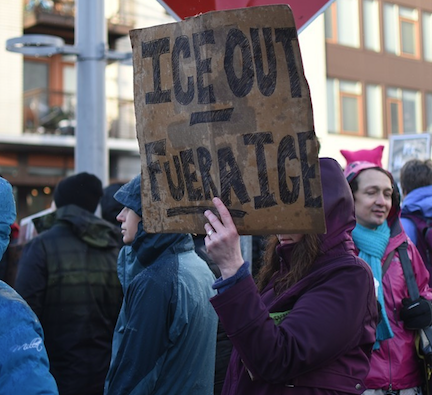 As the saying goes, "life comes at you fast." And with more information hurtling at you than ever before, let's take a break for a curated look at Mercury "must read" stories that you may have missed:
The "Better Naito" bike/pedestrian lane is going away again until probably next summer (much to the joyous celebration of the always self-centered Portland Business Alliance). Our Dirk VanderHart reminds us why it should be a year-round thing.
Remember when slimy AG Jeff Sessions slimed into town to rebuke our "sanctuary city" status? Well, the second he left, ICE agents slipped in and arrested 33 in Portland. Coincidence? Our Doug Brown gives a resounding NOPE!
Mosanto tried to convince courts they aren't the ones polluting West Coast waterways (including those in Portland), and they were UNSUCCESSFUL. Because of course they're guilty.
Speaking of crap in the water: "The Portland Water Bureau announced that it detected crypto—a parasitic microorganism that in some forms can lead to serious health problems in humans—in a water sample taken from the Bull Run watershed on September 24." Whoopee!
Multnomah County Republicans need money, so they're raffling off an assault-style rifle. Try to contain your shock.
Speaking of racism, Tuesday gave us two stark examples: Someone put up a "KKK Wants You" sticker at Roosevelt High School. Meanwhile... "A white Portland man is accused of yelling "N*****, you're in the wrong neighborhood" at a Black man. He's also accused of attempting to get his pit bull to attack the man, police and prosecutors say." JUST NO.
Mayor Ted Wheeler is pushing forward a proposal to extend Portland's "housing state of emergency."
Our Elinor Jones has a late-breaking review of Battle of the Sexes, documenting the historic tennis match between Bobby Riggs and Billie Jean King (starring the super lovable Emma Stone and Steve Carrell), and she thinks you should go see it!
In sports, the Timbers' Diego Valeri extended his streak to 20 goals as the team heartily took down Orlando. Check out the recap to relive the glory!
Guys! If you love stuffing food in your face, don't ghost on the Killingsworth Station Food Cart Pod—which our food/drink critic Joe Streckert notes is on point!
And finally, you need something fun to do this weekend. Don't forget that the Mercury has the best entertainment calendar in town, and this "Things to Do this Weekend" post is a great place to start.
Have a great weekend, guys. We'll be thinking about you!