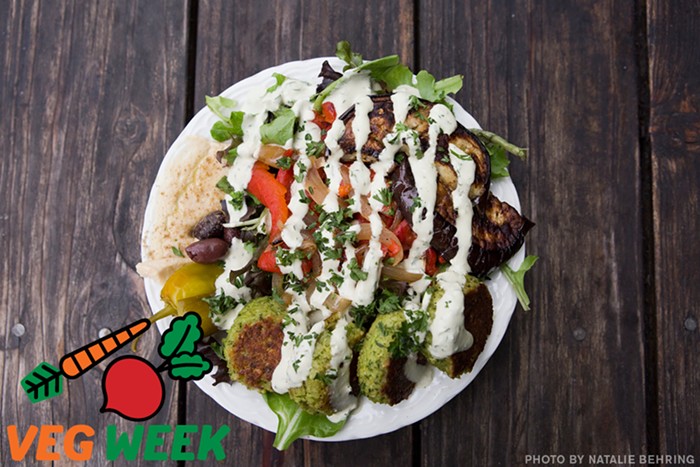 As you doubtless know, dear Portlander, our fair city is one of the best cities to live in (and eat in!) for those who enjoy the ethical, physical, and environmental benefits of a healthy diet—and, for one week, it's about to get even better.
Welcome to the Portland Mercury's first-ever Veg Week—a week designed not only for vegans and vegetarians, but for all Portlanders who want to enjoy some of the best, most inventive dishes Portland restaurants have to offer! Not only are all Veg Week dishes 100 percent vegan, but they're also—from October 9-14 only—available for HALF-PRICE!
Check out the Veg Week map here! Review all the dishes at portlandvegfest.com, and RSVP to the Facebook event to get live updates of all the Veg Week happenings.
Veg Week is brought to you by the Portland Mercury and our pals at the Portland Veg Fest, Farm Spirit, Wildwood Farm Sanctuary, Twist Yoga, and Peace Seed Organic—and before you tuck in, keep a few things in mind:
Tip, and tip well. Veg Week is brought to you by a lot of hard-working people, and you're getting a great deal. Show them some love.
Be patient. You might've noticed, but there are a few people in Portland who are vegetarian or vegan. Which means there'll be lines at some restaurants during Veg Week. We promise, it'll be worth it.
Drink (and eat) up. Veg Week restaurants don't just have their half-price entrées—they've also got a bunch of other fantastic dishes and drinks. Take advantage!
Be social. You'll find everything you need—including updates, reviews, and a handy map of Veg Week locations—at portlandvegweek.com. And the Mercury's Facebook, Twitter, and Instagram will help you stay in the loop, too. #pdxvegweek
Here they are, the dishes:
Brass Tacks Sandwiches: Vegan Caprese
Ground Breaker Brewing: Gluten-Free Late Summer Vegetable Wrap
Ichiza Kitchen: Tonkotsu Ramen
Laughing Planet Cafe (select locations): Thai Peanut Burrito
Loyal Legion: Vegan Corndog & Fries
Mississippi Pizza Pub: The Hothouse & the Franks and Peas
Next Level Burger Hawthorne: Special Sauce Burg & Cup O' Chili
Night Light Lounge: Sweet Potato Poutine
No Bones Beach Club: Jackfruit Flautas with Tomatillo-Avocado Sauce and Cashew Crema
Off The Griddle: French Dip Sandwich
Revelry: Crispy Cauliflower Rice Bowl
Sasquatch Brewing Company: Spaghetti and Meatless-Ball Sub
Stacked Sandwich Shop: Vegan Pita Gyro
The Sudra: Chickenless Tikka Masala
Water Avenue Coffee: Tri-Grain Polenta, Saved Summer Squash, and Roasted Vegetables
Check out all the upcoming Food & Drink Events
.