Welcome to the Portland Mercury's first-ever Veg Week—a week designed not only for vegans and vegetarians, but for all Portlanders who want to enjoy some of the best, most inventive dishes Portland restaurants have to offer! Not only are all Veg Week dishes 100 percent vegan, but they're also—from October 9-14 only—available for HALF-PRICE!
Veg Week is brought to you by the Portland Mercury and our pals at the Portland Veg Fest, Farm Spirit, Wildwood Farm Sanctuary, Twist Yoga, and Peace Seed Organic.
Check out the full Veg Week map here.
Aviv Falafel Bowl
Raise your glass to the noble chickpea, for it lives solely for pain. No other legume gets the ever-loving hell smashed out of it with quite so much relish, and to such effect. For Veg Week, we celebrate this gustatory Job with Aviv's sumptuous Falafel Bowl. This sweet daddy has savory, crunchy falafel balls (pummeled chickpeas) served over a mountain of fries, vegetables, zhoug, amba, and hummus (macerated chickpeas). It makes absolutely no sense that such a delicious creation should be available for a mere fiver, but that's the kind of topsy turvy week this is.
1125 SE Division, avivpdx.com, Veg Week dish available Mon-Fri 11 am-10 pm, Sat 10 am-11 pm, Veg Week price $5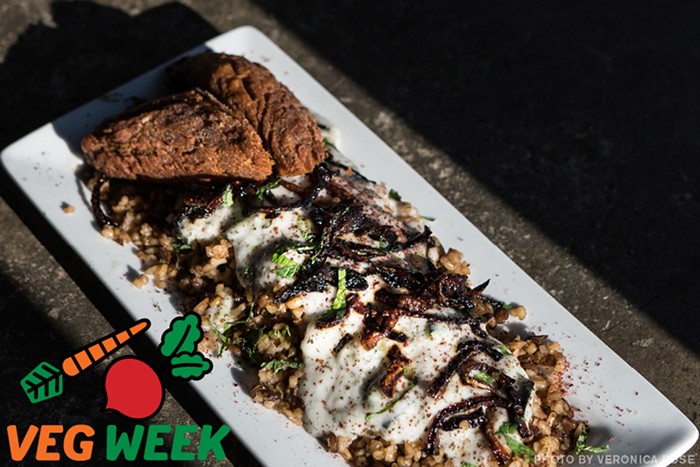 Bar Maven Majadra
Bar Maven owner Bashar Farah is kicking it old-school for Veg Week—by bringing back the tasty majadra his mom used to serve up when he was a kid! Majadra's a lentil dish found all over the Middle East, but Farah's whipped his into a vegan delight: A tasty concoction of lentils, fried onions, and red bulger is served with a vegan kefta kabob and seasoned with tangy almond milk yogurt. It's cheap, vegan decadence that your mom would approve of, right in the heart of Foster-Powell.
6219 SE Foster, barmaven-pdx.com, Veg Week dish available Mon-Sat 4 pm-2:30 am, Veg Week price $6
Biwa Udon
Southeast izakaya mainstay Biwa holds the secret to some of the most sought-after noodles in our fair city, and it's sharing the wealth for Veg Week. Pop in (when you can find a seat) and score the restaurant's vegan udon—chewy and toothsome noodles bathing in a flavorful konbu and mushroom dashi soup, and garnished simply and perfectly with green onions. Fall is here, Portland, and a pervasive Northwest chill is threatening to claim squatters' rights in your bones. This $6 delight is exactly the thing to wallop the hell out of it.
215 SE 9th, biwarestaurant.com, Veg Week dish available Mon-Sat 11:30 am-2 am, Veg Week price $6