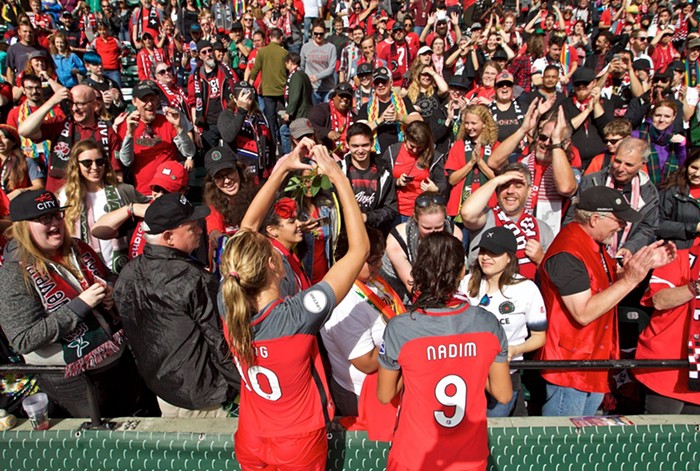 The only thing hotter than the Portland Thorns this week was the Gorge! The Thorns
RAZZLED, DAZZLED AND FRAZZLED
the Chicago Red Stars on Saturday with a 3-1 win.
BOB FOSSE WOULD HAVE BEEN PROUD!
This was the last regular season game for the Thorns and boy-oh-boy did the team send the 2017 regular season out with a sassy brassy
BANG
. It had been three weeks of tough fought games in Orlando, Washington DC, and Seattle for the Thorns. 21,144 rowdy fans gathered in Providence Park to show support and help rattle the Orlando Pride.
OUR CROWDS SELL OUT, NOT OUR PLAYERS!
YOU HAD TO BE THERE
If you are one of those folks that are chronically late to the game—GOOD WORK, YOU'VE MISSED IT AGAIN. I feel like I have gone above and beyond my scope of duty with my consistent warnings that the 2017 Thorns don't waste time figuring out how to match the other team. These Thorns have made regular efforts to dictate and control the pace and tone of the match OUT OF THE GATE. And that's just what Portland forward Hayley Raso did in the second minute of the match when she capitalized on a lackadaisical pass from the Chicago goalie to a defender. GLITTER BOMBS AND JOHANNES BRAHMS—THAT'S MUSIC TO MY EARS!
Then, after some flashy footwork and a pinch of patience, Christine Sinclair crossed a simple yet accurate ball into the box. Portland's other Aussie, Ashleigh Sykes, got a quick touch to land the ball into the net. Joey Mcintyre said it best—YOU GOT THE RIGHT TOUCH, ASHLEIGH!
SECOND HALF BLAST!
If you thought the first half of the Thorns game was unbelievable, you should read what the president tweeted to the mayor of San Juan. NOT IMPRESSED? Then wait till you read about the sensational second half that the Thorns played on Saturday! THINGS WENT FROM GOOD TO EXPLODING HAMBURGERS AND HOT TAMALES!
Portland head coach, Mark Parsons made sure to get a few of his key players rest during the second half of the match in anticipation of the upcoming semi-final match. Haley Raso took a beating, up and down the field in the first half. In addition, defender Meghan Klingenberg and midfielder Amandine Henry were subbed out with hopes that they too would be in healthy healed shape for next week. These substitutions afforded midfielder Allie Long the opportunity to make her 100th regular season appearance for the club. Parsons was also able to get SUPER FAN FAVORITE Tobin Heath on the home pitch for the first time this season. People lost their minds when Heath walked onto the field. SOMEBODY CALL A MENTAL HEALTH PROFESSIONAL – CAUSE PROVIDENCE PARK IS GOING CRAZY!!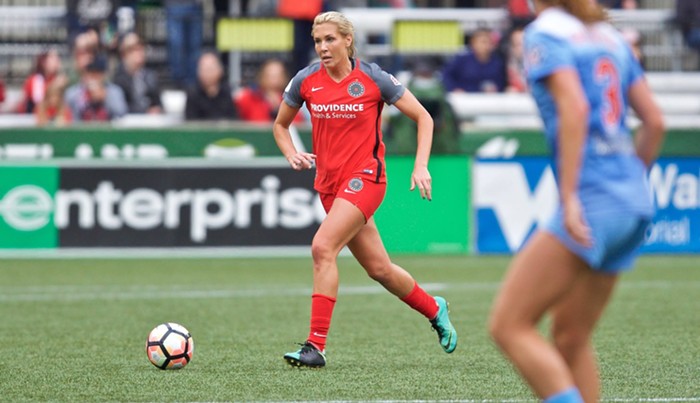 Heath got super close to scoring but couldn't quite connect with the net. Her footwork is still incredible, cheeky and unparalleled. It's thrilling to think about what this team accomplished without her this season and the possibilities of having her back moving forward.
I JUST GOT THE CHILLS AND I CAN FEEL THE HAIRS ON MY LEGS GROW!
Bad news guys, Chicago forward Sofia Huerta scored a goal in the 70th minute—and it was beautiful and totally legal and an absolutely impressive kick.
FUDGE NUGGETS!
It hurt to see AD Franch not get her 12th clean sheet of the regular season but AD came through with some
MONSTER
saves and some skillful distribution through the rest of the match. PLUS, IN THE END, WE WON... SO THERE'S THAT.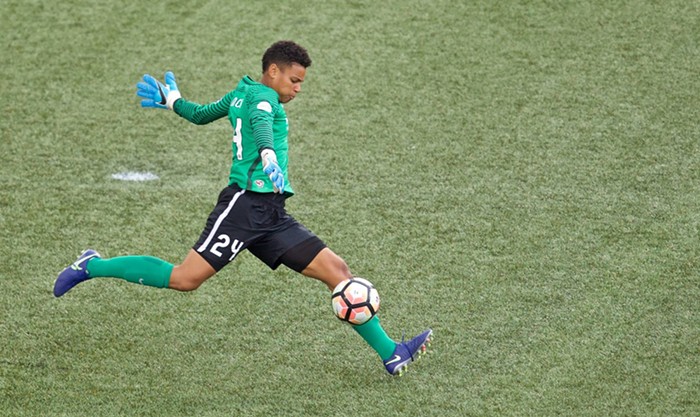 SPEAKING OF DISTRIBUTION –Australian thundercloud, Ashleigh Sykes, kicked a ball right in the front of the goal for Allie Long to get her head on, but SOMEONE (Chicago defender) couldn't keep from restraining Long and preventing a goal. A penalty kick was issued and Nadia Nadime did what she does best, SCORED A GOAL! DEEP SQUATS IN YOUR MAMA'S CULOTTES!

AIN'T NO STOPPING US NOW!
The Thorns ended the season in the second spot at the table. Thus resulting in a coveted home-field advantage for the semifinal match. HOME FIELD ADVANTAGE? THE NUMBER TWO SPOT? THERE AIN'T NO STOPPING US NOW – ESPECIALLY AFTER A WIN LIKE THAT OVER CHICAGO THE NUMBER FOUR TEAM!

Slow your roll cowgirl!
It should be noted that Chicago rested four of their starters on Saturday, including their starting goalie. And if you are just joining the Thorns party, ask a Thorns fan about the devastating loss we suffered to the Western New York Flash last year in the semifinals. I wrote a poem about it. Wanna hear it? HERE IT GOES!
HOME AGAIN HOME AGAIN
Once upon a time, not very long ago,
There was a team in the league that everyone would know.
Their players were fast, fearless and beyond compare.
And ending the season 12-5-3 other teams didn't have a prayer.
So they took the shield with pride and grace,
And the semifinal match would be in their place.
They toiled away with practice and drills,
The fans filled the stadium–ready for thrills.
But despite their record and all their great play.
The game would not end in any pleasant way.
They fell 3-4 in a painful season end
And the blessed Portland Thorns swore NEVER AGAIN.
So here they are in a similar place
Ready to roar and take back what they worked soooo hard to get last year, and again this year. It will be a day of reckoning and proof that hard work pays off. You bet your ass there is some unfinished business—but the Thorns aren't coming to do business, they're showing up in Providence Park to freaking win. So when Morgan, Marta, and Mickey freaking Mouse arrive from Orlando, they better pack an umbrella, cause it's going to rain hard in Portland. It's going to rain huge chunks of skill, raw uncooked determination and a hot mess of hellfire and talent that can only exist here in Portland. AM I UNDERSTOOD?
Sorry that ending didn't rhyme, but you get the point.
Catch the Thorns at Providence Park on Saturday for a day of semi-final reckoning against the Orlando Pride.
Tickets are moving, so get them fast.
TICKETS HERE
Twitter me @erinjeanius