Welcome to the Portland Mercury's first-ever Veg Week—a week designed not only for vegans and vegetarians, but for all Portlanders who want to enjoy some of the best, most inventive dishes Portland restaurants have to offer! Not only are all Veg Week dishes 100 percent vegan, but they're also—from October 9-16 only—available for HALF-PRICE!
Veg Week is brought to you by the Portland Mercury and our pals at the Portland Veg Fest, Farm Spirit, Wildwood Farm Sanctuary, Twist Yoga, and Peace Seed Organic. Check out the full Veg Week map here.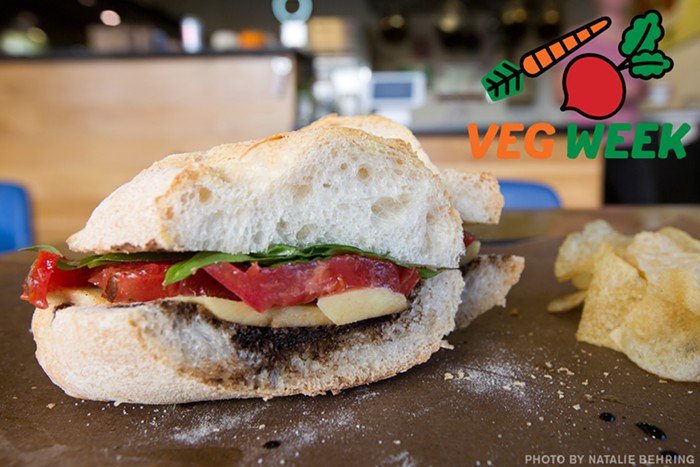 Brass Tacks Vegan Caprese
The great North Portland sandwich shop Brass Tacks is serving up a delicious, completely vegan sandwich with all-local ingredients for Veg Week! The Vegan Caprese has vegan mozzarella (house-made with zucchini, coconut oil, and agar agar), locally farmed heirloom tomatoes and fresh basil, olive oil, balsamic reduction, salt, and pepper on a baked French roll—and if you're desiring some extra kick, toss on some house-made, roasted red pepper vegan salami for $2 more. Brass Tacks always makes their responsibly-sourced sandwiches from scratch, and the Vegan Caprese is sure to be a hit.
3535 N Vancouver, brasstackssandwhiches.com, Veg Week dish available Mon-Fri 10 am-7 pm, Sat 9 am-7 pm, Veg Week price $4 ($2 extra for vegan salami)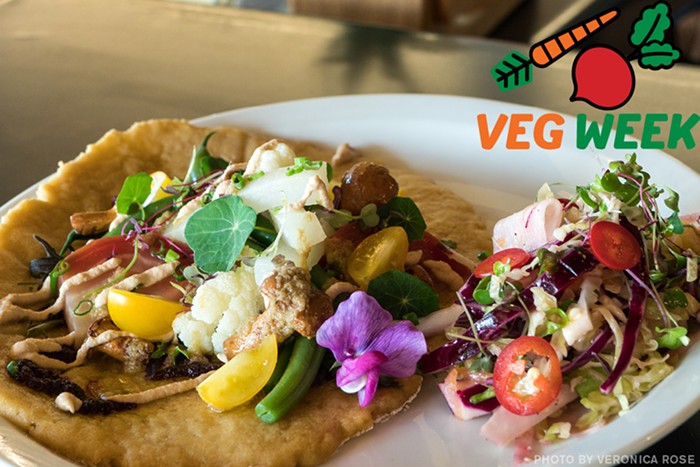 Ground Breaker Gastropub Gluten-Free Late Summer Vegetable Wrap
To Portland's everlasting shame, very few places offer a nice, sturdy gluten-free wrap with seasonable vegetables. Thankfully, Ground Breaker Gastropub is here to fill the void. The great inner Southeast brewery and pub—whose beers and food are already 100 percent gluten-free—is serving a delicious wrap with kohlrabi (Google it, it's tasty), chanterelle mushrooms, beets, arugula, basil pesto, green beans, and cashew cream. Pair it with a pale ale, a dark ale, an IPA, or the blackberry-based Olallie. Portland just got a little better.
2030 SE 7th, groundbreakerbrewing.com,Veg Week dish available Wed-Sat 12 pm-9 pm, Veg Week price $7
Ichiza Kitchen and Tea House Tonkotsu Ramen
Now that fall is officially upon us, we can finally summon back all our favorite "basic bitch" interests: pumpkin-spiced everything, wearing boots and sweaters, getting cozy on the couch with football (or a book), and oh yes—a big warm bowl of ramen! Ichiza's Kitchen in Goose Hollow already offers vegan Pan-Asian cuisine and a lovely selection of oolong teas. But the sight of their Veg Week offering will make your mouth water: umami-rich Tonkotsu ramen with a generous helping of vegan "pork belly" floating on a cloudy, slow-cooked dashi broth of kombu seaweed, Tokyo negi onions, and shiitake mushrooms.
1628 SW Jefferson, ichizakitchen.com, Veg Week dish available Wed-Sat 3-10 pm, Veg Week price $7