Welcome to the Portland Mercury's first-ever Veg Week—a week designed not only for vegans and vegetarians, but for all Portlanders who want to enjoy some of the best, most inventive dishes Portland restaurants have to offer! Not only are all Veg Week dishes 100 percent vegan, but they're also—from October 9-14 only—available for HALF-PRICE!
Veg Week is brought to you by the Portland Mercury and our pals at the Portland Veg Fest, Farm Spirit, Wildwood Farm Sanctuary, Twist Yoga, and Peace Seed Organic.
Check out the full Veg Week map here.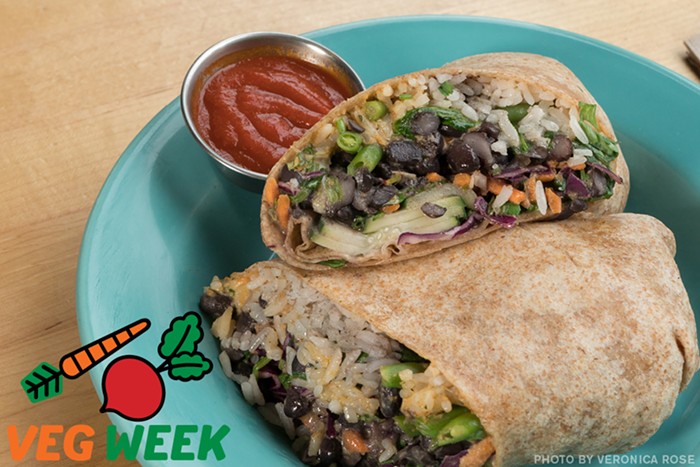 Laughing Planet Thai Peanut Burrito
A general rule in life is you shouldn't pass up a good $5 burrito. Laughing Planet's slightly spicy, veggie-centric, Thai-inspired burrito is one you shouldn't miss—and, fortunately, you're probably not too far from one right now, since there are five spots around town where you can get it. Laughing Planet's Thai Peanut Burrito boasts lemongrass Thai peanut sauce (so good), garlic green beans, broccoli, brown rice, cilantro lime slaw, and spinach—all wrapped in a whole-wheat tortilla.
721 NW 9th, 1720 SW 4th, 3320 SE Belmont, 3765 N Mississippi, 1914 NW 42nd, Veg Week dish available Mon-Sat 11 am-9 pm, Veg Week price $5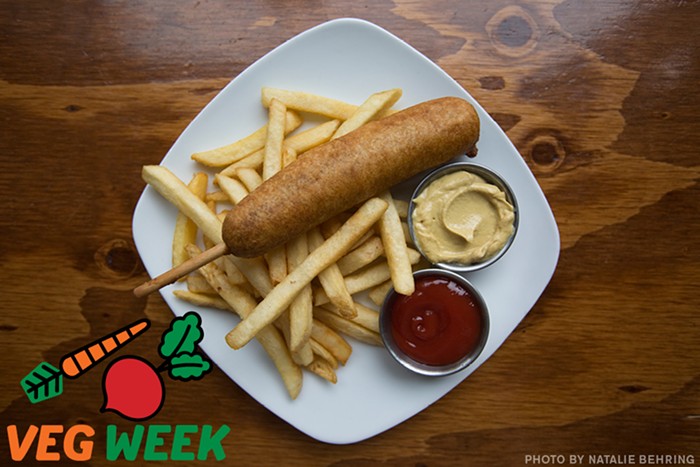 Loyal Legion Vegan Corndog and Fries
God bless Loyal Legion. This place takes its beer seriously, with a massive selection and a tap system that, they humbly note, "rivals a NASA program." They're putting just as much care and passion into Veg Week, switching up their beloved corndog to make it fit for vegans and vegetarians! At the core? Field Roast's excellent vegan frankfurter, which Loyal Legion dunks in house-made vegan batter and fries until it's golden brown—then delivers alongside some phenomenal fries. Loyal Legion claims their Vegan Corndog pairs perfectly with any vegan beer on the menu. You could take their word for it, but we recommend thoroughly testing that claim.
710 SE 6th, loyallegionpdx.com, Veg Week dish available Mon-Thurs 12 pm-midnight, Fri-Sat 12 pm-2 am, Veg Week price $5
Mississippi Pizza Pub The Hothouse & The Franks and Peas
Since pizza is humanity's sole key to enlightenment and long-term happiness, we're blessed to have noble institutions like Mississippi Pizza Pub bringing more pies into the world. This Veg Week, they're concocted two new tickets to paradise: the Franks and Peas, and the Hothouse. The first features caramelized onions, a vegan ranch sauce base, Frank's RedHot-drenched cauliflower, chopped garlic, black-eyed peas, and fresh green onions. The latter centers on a zingy red sauce base, mixed kale greens, zucchini, sweet onion, sun-dried tomatoes, chopped garlic, Mama Lil's peppers, and fresh basil. Don't blame us if you fall in love. Twice.
3552 N Mississippi, mississippipizza.com, Veg Week dish available Mon-Thurs 11 am-12 am, Fri-Sat 11 am-1 am, Veg Week price $4 for two slices