Welcome to the Portland Mercury's first-ever Veg Week—a week designed not only for vegans and vegetarians, but for all Portlanders who want to enjoy some of the best, most inventive dishes Portland restaurants have to offer! Not only are all Veg Week dishes 100 percent vegan, but they're also—from October 9-16 only—available for HALF-PRICE!
Veg Week is brought to you by the Portland Mercury and our pals at the Portland Veg Fest, Farm Spirit, Wildwood Farm Sanctuary, Twist Yoga, and Peace Seed Organic. Check out the full Veg Week map here.
Noraneko Vegetable Ramen
Noraneko is the sister restaurant to Biwa, and their name, charmingly, translates to "stray cats." But they're perhaps better known for the fact that everything at Noraneko—save for the noodles—is made by hand. For Veg Week, they're discounting their simple, "mushroom-powered" Vegetable Ramen, which, after a lot of hard work to get the vegan broth just right, has become one of the staff's favorite dishes.And it gets better: you can add fried tofu for $2 or extra garlic at no additional cost.
1430 SE Water, noranekoramen.com, Veg Week dish available Mon-Sat 11 am-2 am, Veg Week price $5
Off The Griddle French Dip Sandwich
I hate French dip sandwiches the way they're usually made, but I'm going to get in line for Off the Griddle's vegan French Dip Sandwich. The "steak" is made with soy curls marinated to perfection and layered with mushrooms, onions, and Swiss "cheese"—all served au jus on a toasted-golden hoagie roll. Off The Griddle reports their sandwich is "melting and dripping with goodness" that you can dip and chomp to your heart's content. It might even be enough to convert the French dip skeptics among us.
6526 SE Foster, Veg Week dish available Mon-Sat 9 am-2 pm and 4 pm-11 pm, Veg Week price $5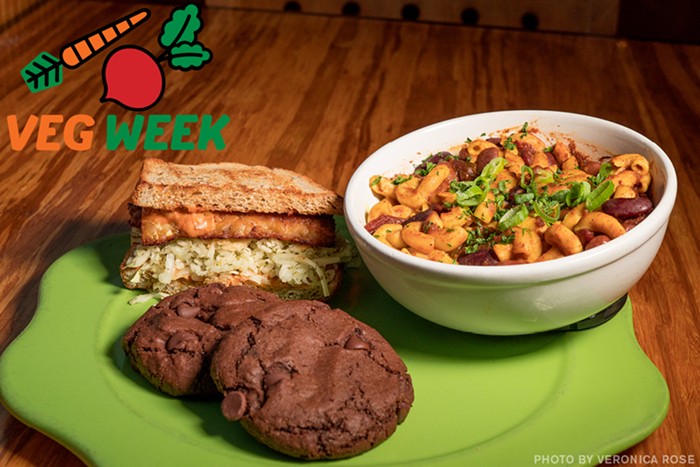 Papa G's Deli The Letter O
Don't you love a meal whose completeness takes you back to your childhood Lunchables, but without the slimy processed meat? Well, Papa G's Deli has a vegan alternative: the perfectly balanced Letter O features a bowl of chili mac (objectively one of the best foods), half a tempeh Reuben (is there anything more adorable than a half-sandwich?), and two Choco-Choco Chip cookies—and all of it is made with organic ingredients. Papa G's would also like to remind you that Damian Lillard is vegan, which means this meal is "fit for an all-star." But if you can read, you already knew that. Go Blazers!
2314 SE Division, Veg Week dish available Mon-Sat 11 am-9 pm, Veg Week price $7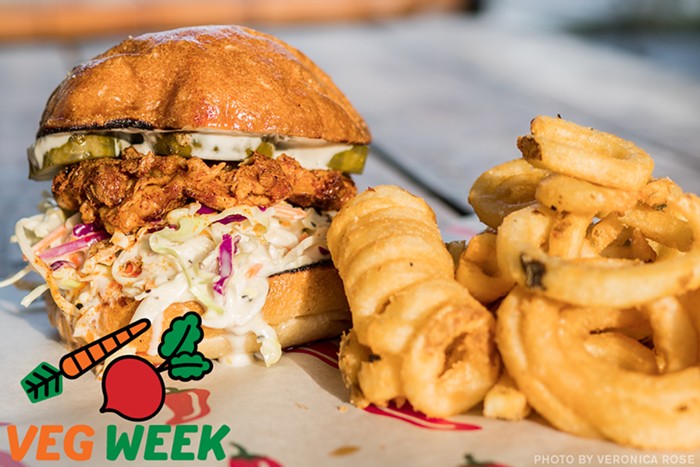 Rad Fare El Pobrecito Burger
Nashville-style fried chicken is the ultimate in spicy, hot chicken. But that's a no-go for the non-meat-eaters among us, so Rad Fare have taken it upon themselves to create a vegan sandwich version with all the sweet 'n' savory flavors Nashville hot chicken embodies. Starting with deep-fried seitan, they add their house-made vegan ranch, coleslaw, and plenty of hot sauce. Served on a vegan rustic bun and coming with a side of fries, the El Pobrecito is one of Rad Fare's best sellers—and Veg Week is the perfect time to grab one at a terrific price.
3503 N Mississippi location only, radfare.com, Veg Week dish available 11 am-11 pm daily, Veg Week price $5