Welcome to the Portland Mercury's first-ever Veg Week—a week designed not only for vegans and vegetarians, but for all Portlanders who want to enjoy some of the best, most inventive dishes Portland restaurants have to offer! Not only are all Veg Week dishes 100 percent vegan, but they're also—from October 9-16 only—available for HALF-PRICE!
Veg Week is brought to you by the Portland Mercury and our pals at the Portland Veg Fest, Farm Spirit, Wildwood Farm Sanctuary, Twist Yoga, and Peace Seed Organic.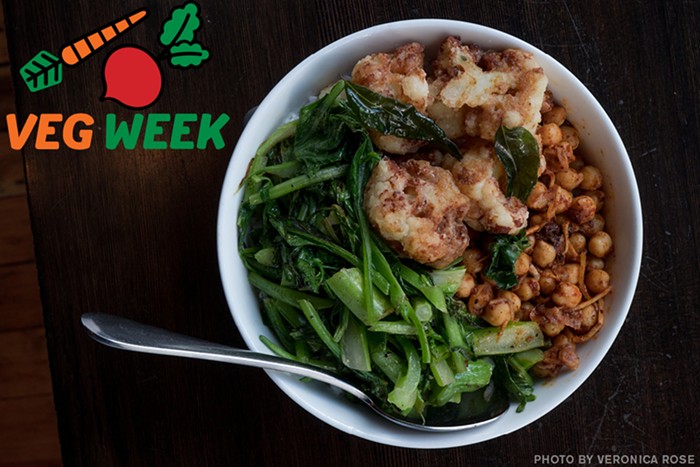 Revelry Crispy Cauliflower Rice Bowl
Cauliflower gets a bad rap as a boring vegetable, but in the right hands, it's downright delicious. Revelry's Veg Week offering highlights the best aspects of cauliflower, frying it to a crisp for crunch and zing, then tossing it in a miso cumin vinaigrette and fried curry leaves. But there's more: a yummy, filling chickpea masala provides a counterpoint, as does the yu choy. It all sits on a bed of rice, making the Crispy Cauliflower Rice Bowl a complete, hearty meal in and of itself.
210 SE MLK, revelrypdx.com, Mon 5-10 pm, Veg Week dish available Tues-Sat 5 pm-midnight, Veg Week price $7.50
Sasquatch Brewing Co. Spaghetti and Meatless-Ball Sub
After a hard day's brewing, Sasquatch's brewers, Ryan Nicolai and Mike Paladino, crave the traditional fare of their Italian heritage. So Sasquatch's Veg Week dish puts all the comfort of a classic dish of spaghetti and meatballs into a vegan sandwich! It all starts with a Baker & Spice sub roll, which is stuffed to bursting with savory, plant-based "meatballs," melted cashew cheese, lots of garlicky marinara, and—yes—spaghetti. It's a classic Italian dish, without the pesky need for utensils. As our friends at Sasquatch say, "Vegan food can be as gooey and melty and gut-busting as anything else!"
2531 NW 30th location only, sasquatchbrewery.com, Veg Week dish available Mon 3pm-8pm, Tue-Sat 11:30 am-8 pm, Veg Week price $6
Stacked Sandwich Shop Vegan Pita Gyro
As far as inspiration goes, you can't do much better than this: The sandwich geniuses at Stacked Sandwich Shop have created a dish that reminds them of "the gyros you get in Paris—stuffed with fries and goodies and covered in sauce." For Stacked's Vegan Pita Gyro, those goodies include zucchini, grilled mushrooms, the hot chili pepper paste harissa, and Ota Tofu tzatziki. Throw in those fries and wrap it all up in a house-made vegan pita, and you've got a gyro that'll stand right up there with the best of 'em.
1643 SE 3rd, stackedsandwichshop.com, Veg Week dish available Mon-Sat 11 am-8 pm, Veg Week price $6
The Sudra Chickenless Tikka Masala
Food-loving Portlanders—vegan or not—are doubtless already familiar with the Sudra, the beloved Indian-inspired vegan restaurant that has outposts in both Northeast and St Johns. For Veg Week, they're offering their Chickenless Tikka Masala—a welcome twist on the Indian standard, this time with Beyond Meat "chicken," bell peppers, onions, and cashew tikka sauce. It's good enough that you'll want to get it both in Northeast and in St Johns.
2333 NE Glisan and 8777 N Lombard, thesudra.com, Veg Week dish available Mon-Sat 11 am-10 pm, Veg Week price $6