This month, Smokehouse Tavern's BJ Smith, a contestant on the most recent season of Bravo's Top Chef, launched a weekly Taco Tuesdays program, and did so in style.
The taco menu, which will always serve at least four rotating versions of what may be the world's most perfect food, will feature signature tacos from guest chefs. In October, he got an assist from fellow Top Chef alum Doug Adams (Imperial and the upcoming Bullard restaurant). And another Top Chef contest, Katsuji Tanabe, is on-deck and ready to lend a hand come November.
Each taco will cost $2 or $3 and can be paired with snacks like chips and salsa ($5), green chile queso ($5), margaritas ($6) and guacamole, which tops out at $7.
"We want this just to be fun and inexpensive for people," Smith says.
And since Taco Tuesdays is in its dry run stage, Smith says he's not sure how long the guest tacos, scheduled to run just one Tuesday a month, will stick around. If people like them, he says, Smokehouse Tavern will continue to make them.
If tacos aren't your thing, you might want to get looked at by your doctor or shrink. But even then you can still order the Texas and Carolina-inspired barbecue for which Smokehouse Tavern is known.
Taco Tuesdays start at 5 pm and lasts until 9 pm, every Tuesday, every month.
Smokehouse Tavern, 1401 SE Morrison, 971-279-4850
Sponsored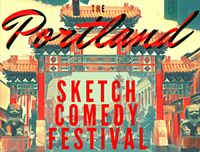 Sketch comedy troupes from all over N. America descend on The Siren Theater for 3 glorious nights.