The BET Awards began in 2001, and since 2006 have included the BET Cypher, in which a group of rappers take turns spitting "freestyle" verses. Since the Cypher's inception, it's become the topic of conversation in barbershops, real and virtual, across America (a lot like how XXL's Freshman issue has been since its inception in 2007). Who was rawest? Who was weak? Who got dissed?
This year's Cypher has sparked more headlines than usual—because Eminem (making his first return to the Cypher since 2011) used a whole four minutes to go in on President Donald J. Trump. It was admirably thorough too, covering the laundry list of insults we've endured under 45. When he called out those among his fans that supported Trump, it was a brave acknowledgement of the tacit understanding that half his fanbase were probably Making America Great.
The internet lost it, of course, which is fine.
Now I used to be a yuge Em fan, and his first three albums are classics to me (even though his real stylistic peak was clearly on DJ Green Lantern's Invasion Part 2: Conspiracy Theory mixtape, duh). But being excited about Marshall in 2017 (or really for the last 15 years) is as indicative of having a faintly conservative (and somewhat trashy) taste in hiphop as a Blue Lives Matter bumper sticker is of being 100 percent Hard-R Racist.
So I personally have no objection with Eminem talking shit about the president, beyond aesthetically: if you can stomach that stagy, breathy spoken-word battle rap style, go ahead and stuff your face. If you're blown away by stagy internal rhyming and that awkward Ben Grimm reference ("racism's the only Thing he's Fantastic Four/ cuz that's how he gets his fucking rocks off, and he's orange"), that's cool, Lebron.
That's when I read that tweet from Keith Olbermann:
After 27 years of doubts about rap I am now an @Eminem fan.

Best political writing of the year, period. 👏👏👏👏👏#Eminem2020 https://t.co/yS2Y72n8WS
— Keith Olbermann (@KeithOlbermann) October 11, 2017
You're telling me that a guy that lived in Los Angeles from the mid '80s to the early '90s, during which NWA, Ice Cube, and Public Enemy were all on the airwaves, somehow didn't find anything of worth politically in popular rap music. A guy that spent almost three decades doubting the most important cultural movement of that time needed a washed-up white dude to make him a believer.
This Is The Resistance?
I just want to note the difference in the reception to this "freestyle" and another song. In 2016, YG and Nipsey Hussle put out a song called "FDT"—Fuck Donald Trump. It seemingly came out of nowhere—it was the first wholly anti-Trump song in rap at the time, and it was incredible to see that just like that, LA gangsta rap had reclaimed its status as the political vanguard of hiphop music.
Like other songs on YG's Still Brazy album, it was also an explicit call for Black/Brown unity at a time that Trump was doubling and tripling down on anti-immigrant invective and his flock was shoveling it down like Five Guys fries. For months, I heard the chorus of "FDT" every morning through my kitchen window, the bassline thumping out of various cars in DTLA. The people heard it, even if the radio refused to play the radio edit.
Nipsey Hussle—the one who rapped that "Donald Trump spent his trust fund money on the vote/ I'm from a place where you prolly can't go/ Speakin' for some people that you prolly ain't know/ It's pressure built up and it's prolly gon' blow"—felt compelled to call out radio stations by name coast to coast for not supporting the song.
YG even contends that the Secret Service contacted Universal to get the song's lyrics, and that the main version of it had to be edited in order for it to be included on Still Brazy.
Trump's beloved Mainstream Media, for the most part, looked at its watch, even after YG, in a clear bid to make a bigger impact with his message, commissioned a remix featuring popular white rappers Macklemore and G-Eazy, and even shot a video. Still: Fucking. Crickets.
So after all of that, for The White Rapper of all White Rappers to make a statement on Trump (and not even his first), and be hailed as, again, "the best political writer of the year," in a year in which Ta-Nehisi Coates exists (to catch heat for not solving racism)?
Truly: This Is The Resistance and This Is Why We Don't Fuck With Y'all.
Sponsored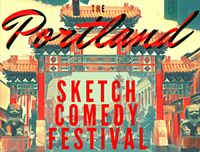 Sketch comedy troupes from all over N. America descend on The Siren Theater for 3 glorious nights.